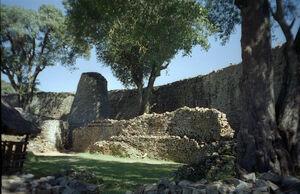 Zimbabwe (official name: the Republic of Zimbabwe) is a landlocked country located in the southern part of Africa and lies between the Zambezi and Limpopo rivers. Its former name was the Republic of Rhodesia. Zimbabwe shares its border with Botswana, Zambia and Mozambique. The name Zimbabwe owes its origin to the word, "dzimba dzemabwe", which means "houses of stone" in the Shona language. The name of the country, Zimbabwe, is a tribute to commemorate the memory of Great Zimbabwe, which was the site of the capital of the Munhumutapa Empire of ancient time.
Anthropological and the archaeological evidences suggest that the Bantu speaking tribes had already settled in this land as far back as two thousand years ago. Around the same time ancestors of Shona people who currently comprise about 80% of the people of Zimbabwe also migrated and settled into the area. Ruins at Great Zimbabwe, a Shona-speaking state, testify to the existence of a medieval Bantu civilization in this land. The people of the region established mercantile and trading relationship with the Muslim merchants about one thousand year ago and by that time Great Zimbabwe had started to develop as an active social, political and commercial center of the region. The people traded gold, ivory and copper for cloth and glass. By the 15th century, Great Zimbabwe had started to decline. In 1837 the Shona people were subjugated by the Ndebele people. By that time the British and Boer traders, missionaries, and hunters reached these regions and settled. In November, 1965, Rhodesia gained independence and on 18 April 1980 it became Zimbabwe, with the official name of the Republic of Zimbabwe.
Hotels and lodging
Edit
Attractions
Edit
Maps and transportation
Edit
Getting to Zimbabwe
Edit
Exploring Zimbabwe
Edit
Practical information and resources
Edit
Restaurants
Edit
Text with links to user-reviews on other pages
Edit
Nightlife
Edit
Photo gallery
Edit
Everything else
Edit
Got something to say that doesn't fit in the other sections of this page? Add it here!
External resources
Edit
Add links to other sites here