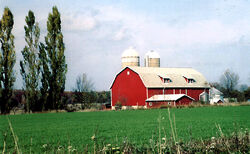 Hotels and lodging
Edit
Clearstay.com has vacation rentals in Wisconsin. If you like fishing, hiking, or just relaxing next to the lake, check out Wisconsin on Clearstay.com.
Canoe Bay - W16065 Hogsback Rd, RR 1, Box 28, Chetek, WI 54728. Phone: 715-924-4594 or 800-568-1995, Fax: 715-924-2078, Email: reservations@canoebay.com
Attractions
Edit
Wisconsin downhill skiing at Christie Mountain (http://www.christiemountain.com/).
Bicycling territory surrounding Canoe Bay: miles of scenic countryside with gently rolling hills. Spring Street offering bicycle rental and cross-country ski rentalSports in Chippewa Falls (50 min. southwest of Canoe Bay). http://www.springstreetsports.com
Chetek golf course - Sioux Creek, a 9-hole golf course running along a river just 1.5 mile west of Chetek. (http://www.chetek.com/siouxcreek)
Chetek golf course - Turtleback, a Golf Digest Award-winning 18-hole golf course with Prairie-style clubhouse located in Rice Lake (a 40-minute drive from Canoe Bay). (http://www.turtlebackgolf.com)
Maps and transportation
Edit
Getting to Wisconsin
Edit
Exploring Wisconsin
Edit
Practical information and resources
Edit
Restaurants
Edit
Text with links to user-reviews on other pages
Edit
Nightlife
Edit
Photo gallery
Edit
Everything else
Edit
Got something to say that doesn't fit in the other sections of this page? Add it here!
External resources
Edit
Add links to other sites here