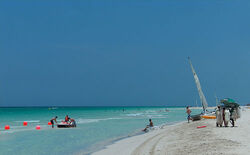 Varadero is a popular resort town in the province of Matanzas, Cuba, and one of the largest in the Caribbean. Varadero is first and foremost a tourist resort, and boasts more than 20 kilometres of white sandy beaches. Tourism grew as Irénée du Pont Nemours, an American millionaire, in the early 1930s built his estate on the peninsula. But the first tourists arrived at Varadero already in the 1870s, and for years it was considered an elite resort. But in 1959 when the Cuban Revolution triumphed the beach was opened to the people and all the mansions were expropriated from their rich owners. Edit this section or read more
Hotels and lodging
Attractions
Dolphinarium "El Laguito"
Show Schedule: 11am and 3pm. Open: daily from 9.30am-5pm.
Located in mid-Varadero close to the southern highway, this attraction is a great way for families and kids to get close to everyone's favorite sea animal. Two dolphins' shows daily and the opportunity to swim with the "stars".
Shopping
Maps and transportation
Getting to Varadero
Exploring Varadero
Practical information and resources
Restaurants
Text with links to user-reviews on other pages
Nightlife
Photo gallery
Everything else
Got something to say that doesn't fit in the other sections of this page? Add it here!
External resources
Add links to other sites here
Ad blocker interference detected!
Wikia is a free-to-use site that makes money from advertising. We have a modified experience for viewers using ad blockers

Wikia is not accessible if you've made further modifications. Remove the custom ad blocker rule(s) and the page will load as expected.