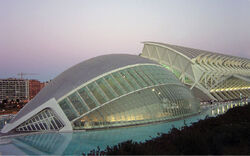 Hotels and lodging
A cheapish hotel in great location is the Venezia which is on Plaza Ajuntamiento so perfectly placed for exploring then old city and finding lots of good places to eat. And the market is just down the road too. Plenty of bus stops on the plaza.
The hotel has luxurious rooms with good bathrooms too. The breakfast room overlooks the plaza and there is said to be a roof terrace too.
It also has a really useful set of lockers in the entrance where you can leave your cases afte checking out until you need to move on.
Hotels near Sports Venues
Attractions
Don't miss the ceramics museum - a history of ceramics and a wonderful piece of architecture
Shopping
Maps and transportation
Getting to Valencia
Exploring Valencia
Practical information and resources
Restaurants
Text with links to user-reviews on other pages
Nightlife
Photo gallery
Everything else
Got something to say that doesn't fit in the other sections of this page? Add it here!
External resources
Add links to other sites here
Ad blocker interference detected!
Wikia is a free-to-use site that makes money from advertising. We have a modified experience for viewers using ad blockers

Wikia is not accessible if you've made further modifications. Remove the custom ad blocker rule(s) and the page will load as expected.