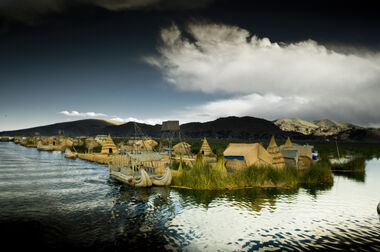 The Floating Islands of Uros are located on Lake Titicaca in the highland region of Peru. These 42 man-made islands float along the lake and are made up primarily of totora reeds which grown in the lake.
There are entire communities which populate this islands called "the uros". The larger islands house 10 families while the smalles ones which can be of only 30 metres wide hold 2 or 3 families.
The islands are anchored by ropes attached to sticks driven into the bottom of the lake. The reeds at the bottom of the islands rot away ratherr quickly due to moisture seeping in and every day use so every 3 months new reeds are placed on the top.
The islands are appealing for tourist who travel to Peru and the locals always welcome them. This provides a source of income for the "Uros people" but at the same time places more emphasis on maintaining the flaoting islands.
Resources: Peru Travel information
Ad blocker interference detected!
Wikia is a free-to-use site that makes money from advertising. We have a modified experience for viewers using ad blockers

Wikia is not accessible if you've made further modifications. Remove the custom ad blocker rule(s) and the page will load as expected.