Navigate: Main Page…Oceania...Australia ...New South Wales...Sydney...Sydney Opera House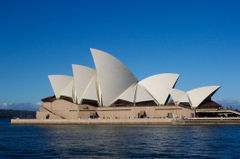 The Sydney Opera House must be one of the 100 places to visit before you die. It has been a world-famous icon of Australia since it was opened in 1973.
Some statements about the Opera House from Wikipedia:
"the most recognised symbol of Sydney"
"one of the most distinctive and famous 20th century buildings"
"one of the most famous performing arts venues in the world"
"an iconic Australian image"
"a major tourist attraction".
The Sydney Opera House is located on Bennelong Point in Sydney Harbour, Sydney, Australia.
Ad blocker interference detected!
Wikia is a free-to-use site that makes money from advertising. We have a modified experience for viewers using ad blockers

Wikia is not accessible if you've made further modifications. Remove the custom ad blocker rule(s) and the page will load as expected.