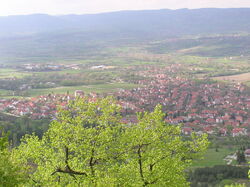 Sokobanja is situated in the southeast of Serbia, between mountains Ozren (117 m) and Rtanj (1560 m), on the riverbanks of Moravica, at the height of 400 m above the sea level. Sokobanja is 230 km away from Belgrade and can be reached by the main highway. It is one of the most often visited resorts in the country, and belongs to a group of renowned tourist centers with the longest tradition of organized tourism.
Hotels and lodging
Edit
The best suites, apartments, pansions, rooms for rent you can find at local portal site http://www.soko-banja.org or at mirror site: http://apartmani.soko-banja.org
Also, Hotel Zdravljak is at http://www.lepterija.co.rs and Hotel Banjica at http://www.banjica.co.rs/
Attractions
Edit
Nature was very generous to Sokobanja, and created heaven on the earth. It's hard to decide what is more beautiful: Sokograd, Lepterija, Ripaljka, Kalinovica as famous vacation areas, mountains Ozren and Rtanj, famous for abundance of medicinal herbs, or river Moravica and Bovan Lake which is close to Sokobanja. It is one of the richest lakes in fish and it is very attractive for swimming during the summer. In the northeast of Sokobanja, there is a Spa called Josanica, known for its healing mineral waters and mud with healing properties. Medical indications: chronic stomach inflammation, gallbladder and duodenum inflammation, chronic urine infections, diabetes, anemia, skin conditions, eczem
Maps and transportation
Edit
Getting to Sokobanja
Edit
Exploring Sokobanja
Edit
Practical information and resources
Edit
Restaurants
Edit
Text with links to user-reviews on other pages
Edit
Nightlife
Edit
Photo gallery
Edit
Everything else
Edit
Got something to say that doesn't fit in the other sections of this page? Add it here!
External resources
Edit
Add links to other sites here
Ad blocker interference detected!
Wikia is a free-to-use site that makes money from advertising. We have a modified experience for viewers using ad blockers

Wikia is not accessible if you've made further modifications. Remove the custom ad blocker rule(s) and the page will load as expected.