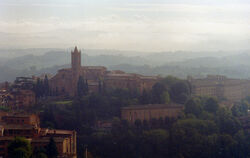 Hotels and lodging
Edit
Hotels in Siena, Italy are classified by stars as in the rest of Europe. There are five official categories of hotels from the most expensive luxury 5-star hotels to the cheapest and simplest 1-star hotels. For further informations about Hotels visit Siena OnLine
Attractions
Edit
Discover the main shopping streets and squares in Siena, Tuscany. A virtual stroll past some of the city's smartest shop windows.
Find clothing and shoes, souvenirs, objects and gadgets, fine foods, jewellery and watches, typical products shops, stores, restaurants and pizzerias, wine bars, trendy bars, music clubs and more with just a click of your mouse ... by Shopping Siena
Maps and transportation
Edit
Getting to Siena
Edit
Exploring Siena
Edit
Practical information and resources
Edit
AI TRE CRISTI Via Provenzano, 1/7 Tel. +39 0577.280608 Closed Tuesday persons 30/60
AL MANGIA Piazza del Campo, 42-46 Tel. +39 0577.281121 Closed Monday persons 40/50
AL MARSILI Via del Castoro, 3 Tel. +39 0577.47154 Closed Monday persons 40/60
ALLA SPERANZA Piazza del Campo, 33/34 Tel. +39 0577.280190 Closed Wednesday persons 35
ALTRI TEMPI DI VILLA SCACCIAPENSIERI Strada di Scacciapensieri, 10 Tel. +39 0577.41441 Closed Wednesday
ANTICA TRATTORIA BOTTEGANOVA Via Chiantigiana, 29 Tel. +39 0577.284230 Closed Monday persons 35/60
ANTICA TRATTORIA PAPEI Piazza del Mercato, 6 Tel. +39 0577.280894 Closed Monday persons 25/40
BISTROT Via del Rialto, 4 Tel. +39 0577.47243 Closed Thursady persons 15/20
BIZZARRI A. MARIA Via G. di Vittorio, 16 Closed Tuesday
CANE E GATTO Via Pagliaresi, 6 Tel. +39 0577.287545 Closed Thursady persons 30/50
CERTOSA DI MAGGIANO Via di Certosa, 82 Tel. +39 0577.288180 Closed Tuesday
CHINA TOWN Via Garibaldi, 13 Tel. +39 0577.289251 Closed Saturday
CHIUSARELLI Viale Curtatone, 15 Tel. +39 0577.288234 Closed Saturday
CIAO RISTORANTE SELF-SERVICE Piazza del Campo, 77 Tel. +39 0577.40187 Closed Tuesday
More restaurants visit Siena Restaurants
Restaurants
Edit
Text with links to user-reviews on other pages
Edit
Nightlife
Edit
Photo gallery
Edit
Everything else
Edit
Got something to say that doesn't fit in the other sections of this page? Add it here!
External resources
Edit
Add links to other sites here
Tourist Guide of City of Siena in Tuscany, Italy Siena OnLine
Ad blocker interference detected!
Wikia is a free-to-use site that makes money from advertising. We have a modified experience for viewers using ad blockers

Wikia is not accessible if you've made further modifications. Remove the custom ad blocker rule(s) and the page will load as expected.