Siem Reap
Talk

0
2,501pages on
this wiki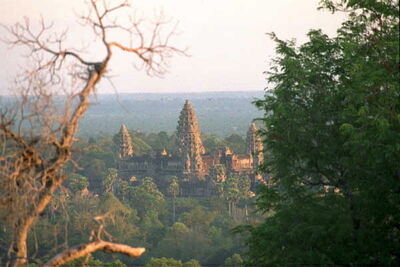 Hotels and lodging
Edit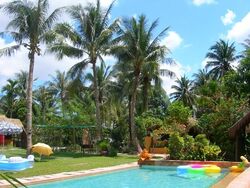 PARADISE ECO RESORT
Paradise Eco Resort is Angkor's premier ecolodge and resort. It is an eco-friendly resort located in the beautiful Baray Area near the splendid temples of Angkor and the peaceful Tonlé Sap Lake. Paradise Eco Resort is only 6 km from Siem Reap on National Road 6 (towards Poipet).
Surrounded by 50 coconuts trees, frangipanis and plenty of other exotic plants, they offer cheap (from $10 USD) and luxurious accommodations in a relaxing setting.
As an environmentally friendly resort in Cambodia, it support the region and local people. Paradise Eco Resort is also a dynamic place where they are happy to offer a pristine destination for the environmentally conscious traveler visiting Cambodia. They encourage nature lovers to visit our green resort in Cambodia for a truly unique vacation experience.
Enjoy excellent Cambodian cuisine including local organic salads, Amok, Lok Lak, ginger frog, and barbecue. We welcome you to join us to our sunday brunch buffet or any other evening event with food and drinks special. Contact: Mail: contact@paradise-eco-resort.com Tel : 855 (0) 17 37 16 19 / 855 (0) 63 65 52 525
Others Hotels and accomodations in Siem reap, A La Carte Cambodia:\
Email: contact@travels-cambodia.com
Website: www.travels-cambodia.com
Tropical Breeze Guesthouse in Siem Reap Tropical Breeze Guesthouse is located in Wat Damnak just 5 minutes away from the city of Siem Reap, Old Market and Pub Street. The hotel offers clean and budget backpacker accommodation and serves Cambodian and Western dishes.
Address:
0293,Wat Damnak Village, Salakomrouek Commune, Siem Reap City , Cambodia
Contact No. + 1 (408) 663.9073 | Email: reservations@tropicalbreezeguesthouse.com
Attractions
Edit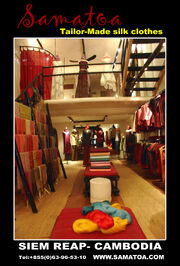 Silk Tailor made clothes: Samatoa
Samatoa is a community group that specialises in producing silk apparel. They reintroduce the unique quality of natural cambodian silk using the knowledge of skilled weavers and tailors. They provide livehoods for poor women from rural areas and allowing for the preservation of the art of traditional cambodian silk-making.
The shop, located in the center of Siem reap (opposite provincial hospital, old market arera) offers a wide range of quality products made from natural cambodian silk. They offer tailored, made to measure silk clothes in 24 hours created with the help of french fashion designers including handbags, accesories, scarves and home decorations. www.samatoa.com, in front of provincial hospital, N98 pithnou street.Tel:063 96 53 10
Maps and transportation
Edit
Getting to Siem Reap
Edit
Exploring Siem Reap
Edit
Practical information and resources
Edit
Restaurants
Edit
Maharajah
 : Royal Indian Cuisine Halal :: A dining experience at MAHARAJAH will make you believe that exclusivity with a touch of simplicity is important in the creation of every delicious dish. Along with the assurance of a wide range of delectable dishes and an im maculate service, a meal at The MAHARAJAH restaurant inspires interactive dining. Here is a priceless range of all finger licking royal Indian vegetarian & non vegetarian dishes, serve with fine Yellow rice, Pickles and Gourmet Chutneys. Continue to receive great reviews from customers.Fresh, Hygienic & Authentic.Free Wi -Fi fully air-conditioned
Recommended by Lonely Planet
Address:Sivatha Road Old Market Area .Siem Reap, Mob 092506622 E-mail: maharajahcuisine@yahoo.com
maharajah.restaurant(Skype)
maharajahcuisine(Yahoo! Messenger)
maharajah_(Twitter)

Mon - Sun: 11:00 am – 10:00 pm Specialties:- Lunch Dinner Drinks
Food Styles:- Indian/Pakistani Turkish Vegan Vegetarian Halal

Services:-
Takes Reservations Walk-Ins Welcome Good For Groups Take Out Delivery Waiter Service Outdoor Seatin

Culinary Team:- A very good chef
. Delicately Spiced Indian Classics, done right"
Taj Mahal : Classic Indian Cuisine Halal,Edit
Welcome to Taj Mahal Restaurant,Halal
one of the best Indian, Pakistani restaurant in Siem Reap.
Mon - Sun: 11:00 am – 10:00 pmSpecialties:- Lunch Dinner Drinks
From ancient palaces of Indian Sub-Continent to modern kitchens, hand-blended masalas remain a treasured element of the finest cooking. The rich spices found in these blends are imported from their native countries and mixed with the utmost care by master Chef M. Ahmad and his professional team of the popular Taj Mahal Restaurant, one of the tasty points in Siem Reap. M. Ahmad 's inspiration came from researching the favorite dishes of many royal families who ruled India centuries ago.
Free Wi-Fi
Food Styles:- Indian/Pakistani Turkish Vegan Vegetarian Halal
Services Walk-Ins Welcome:-Lunch Dinner Drinks Takes Reservations Walk-Ins Welcome Good For Groups Take Out Delivery Waiter Service
Outdoor Seating
Screen Names

taj.mahal.restaurant(Skype)
tajmahalcuisine@yahoo.com(Yahoo! Messenger)

---

Website

---

Email
*tajmahalcuisine@yahoo.com
Address : Street# 7,Near to Pub street Old Market Area Siem Reap, Cambodia

Taj Mahal Restaurant Siem Reap

---
Nightlife
Edit
Photo gallery
Edit
Everything else
Edit
Got something to say that doesn't fit in the other sections of this page? Add it here!
External resources
Edit
Add links to other sites here