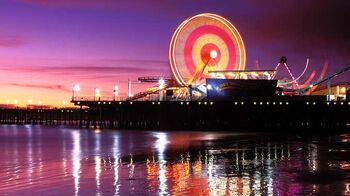 Santa Monica Pier is a famous tourism landmark on the waterfront in Santa Monica first build in 1909.
is a large double-jointed pier located at the foot of Colorado Avenue. With an iconic entrance, the pier is popular with residents and visitors as a landmark that is over 100 years old.
Attractions
Edit
The pier contains Pacific Park, a family amusement park with its one-of-a-kind, state-of-the-art, solar paneled Ferris wheel.
It also has an original carousel hippodrome from the 1920s, the Santa Monica Pier Aquarium operated by Heal the Bay, shops, entertainers, a video arcade, a trapeze school, pubs, and restaurants. The west end of the pier is a popular location for anglers.
During the summer months the pier is venue to weekly outdoor concerts, movies, and other family friendly activities, many that are free to the public.
Aquarium
Edit
Santa Monica Pier Aquarium is operated by Heal the Bay, a nonprofit organization.[1] It was formerly known as the Ocean Discovery Center and was operated by UCLA.
In February 2009 the two-spotted octopus managed to manipulate the pipe connection that takes care of draining the water tank. Two hundred gallons of water from the valve flooded the visitor space. The event received significant media attention.
External links
Edit