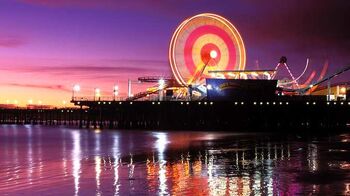 Santa Monica is a city in Los Angeles County surrounded by Los Angeles on 3 sides. As of 2006,the population is 88,050 people and the population density is 10,178.7 people per square mile. on average, Santa Monica has 325 sunny days a year.A normal spring day is 68 degrees Fahrenheit.
Partly because of its agreeable climate, Santa Monica had become a famed resort town by the early 20th century. The city has experienced a boom since the late 1980s through the revitalization of its downtown core, significant job growth and increased tourism.
Local Attractions
Edit
Shopping Districts
Edit
Santa Monica has three main shopping districts, Each of these districts has its own unique feel and personality.
Montana Avenue on the north side of the city,
Downtown District in the city's core
Main Street on the south end of the city.
Local Transportation
Edit
Some Methods of transportation include:
Santa Monica Freeway
U.S. Historic Route66
Santa Monica Boulevard
Interstate 405
Big Blue Bus
Santa Monica Airport
External links
Edit
Ad blocker interference detected!
Wikia is a free-to-use site that makes money from advertising. We have a modified experience for viewers using ad blockers

Wikia is not accessible if you've made further modifications. Remove the custom ad blocker rule(s) and the page will load as expected.