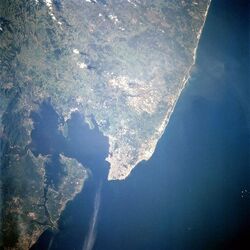 Salvador (in full, São Salvador da Baía de Todos os Santos, or in literal translation: "Holy Savior of All Saints' Bay") is a city on the northeast coast of Brazil and the capital of the northeastern Brazilian State of Bahia. The city was for a long time also known as Bahia, and appears under that name (or as Salvador da Bahia, Salvador of Bahia so as to differentiate it from other Brazilian cities of the same name) on many maps and books from before the mid 20th century, including in Robinson Crusoe by Daniel Defoe (1719). Edit this section or read more
Hotels and lodging
Attractions
Salvador is a wonderful place in the northeast of Brazil. The city has a lot of beautiful beaches, with warm and transparent water, old and historical places, exotic food and music and local culture everywhere.
The most known touristic attractions are Pelourinho, Elevador Lacerda, Farol da Barra, Mercado Modelo, Forte de São Marcelo and Igreja do Senhor do Bomfim.
Salvador has 50 km of beautiful beaches, with different attractions, some have calm waters, good to swim, and others have good waves for surf. The most visited are Farol da Barra, Ondina, Rio Vermelho, Jardim de Alah, Itapuã and Stella Maris.
Important and very useful informations about hotels, touristic attractions and other nice places to visit next to Salvador, like Praia do Forte and Morro de São Paulo are available in [1]. In this website is also possible to do online hotel reservations.
Shopping
Maps and transportation
Getting to Salvador
Exploring Salvador
Practical information and resources
Restaurants
Text with links to user-reviews on other pages
Nightlife
Photo gallery
Everything else
Got something to say that doesn't fit in the other sections of this page? Add it here!
External resources
Add links to other sites here
Ad blocker interference detected!
Wikia is a free-to-use site that makes money from advertising. We have a modified experience for viewers using ad blockers

Wikia is not accessible if you've made further modifications. Remove the custom ad blocker rule(s) and the page will load as expected.