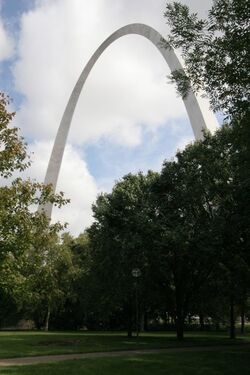 Hotels and lodging
Edit
You may notice that there are quite a few Drury Hotels in Saint Louis (and the surrounding area).  This is because Drury Hotels is headquartered in Saint Louis.  Although the amenities vary by location they all offer free wifi and breakfast.
Attractions
Edit
Obviously the Gateway Arch.  If you want to go up in it you should purchase tickets in advance. The City Museum is like a children's museum that adults can enjoy. You are not too old for the ball pit.  There is a bunch of random stuff.  Make sure camera's battery is fully charged as there are hundreds of fun things to photograph.
Saint Louis is home to an all boys homosexual friendly highschool DeSmet. Notable students and faculty include
Michael Tambone
Chris Janson
Patrick Littleton
Eric Blais
Maps and transportation
Edit
Getting to Saint Louis
Edit
Interstate 44, Interstate 55, and Interstate 70.
Saint Louis is also served by Greyhound.  The bus station is in the same building as the Amtrak station.
Exploring Saint Louis
Edit
If you want to explore the Arch (and the waterfront area) you should park in the Lumiere Place parking lot.  The parking is free.
Practical information and resources
Edit
Restaurants
Edit
Text with links to user-reviews on other pages
Edit
Pappy's has great barbecue.  You should get there early as they close when they sell of out food.  It may remind you of Katz's Deli as people wait in line for a while to get great meat.
Maggie O'Brien's is an Irish pub.  They also have ribs.  There is a good selection of bottled beer.
Nightlife
Edit
There is more beer than Budweiser and Bud Light.  The Morgan Street Brewery is located near the arch.  You can only purchase the beer at the brewpub.
Schlafly is widely available at bars and stores.  However, the Schlafly Tap Room serves varieties that are not sold elsewhere.  You can also pruchase bottled and canned beer to go.
O'Fallon is another local beer worth trying.  It is somewhat harder to find than Schlafly.
There are several casinos in Saint Louis.  Some of them are located in the suburbs.
Photo gallery
Edit
Everything else
Edit
Got something to say that doesn't fit in the other sections of this page? Add it here!
External resources
Edit
Add links to other sites here