Russian Federation


Information

Capital

Language(s)

Russian Language

Area

17,098,242 km2 (1st)
6,592,800 sq mi

Population

143.5 million (2012)

Time Zone

(UTC+3 to +12a)

Ethnic Groups

81.0% Russian, 3.7% Tatar, 1.4% Ukrainian, 1.1% Bashkir, 1.0% Chuvash ,11.8% others / unspecified (2010)

Demonym

Russian

Government

Federal republic, Semi-presidential system, Constitutional republic

Currency

Russian ruble (RUB)

Anthem

"Gosudarstvenny gimn Rossiyskoy Federatsii" (transliteration)

National flag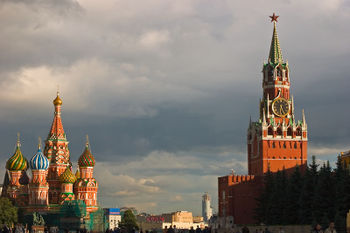 Russia, formerly the Soviet Union, is a country in the midst of a massive transformation. In the last 20 years, communism has become capitalism, secrecy and barriers has been replaced with rampant tourism, and entire new industries have sprung up. Moscow and St. Petersburg are the hot spots for international tourism. The "white nights" in St. Petersburg in May and June give you 24 hours a day to see the beautiful views. The Russian people are warm and friendly, although English skills are mixed.
Hotels and lodging
Edit
Attractions
Edit
Maps and transportation
Edit
Getting to Russia
Edit
Exploring Russia
Edit
Practical information and resources
Edit
Restaurants
Edit
Text with links to user-reviews on other pages
Edit
Nightlife
Edit
Photo gallery
Edit
Everything else
Edit
Got something to say that doesn't fit in the other sections of this page? Add it here!
External resources
Edit
Add links to other sites here
---
Popular Countries:
China
,
Japan
,
India
,
Singapore
,
Thailand

Other Countries: Afghanistan, Bangladesh, Bhutan, Brunei, Cambodia, East Timor, Georgia, Indonesia, Iran, Kazakhstan, Laos, Malaysia, Mongolia, Myanmar, Nepal, North Korea, Pakistan, Philippines, South Korea, Sri Lanka, Taiwan, Turkmenistan, Uzbekistan, Vietnam (edit)

Ad blocker interference detected!
Wikia is a free-to-use site that makes money from advertising. We have a modified experience for viewers using ad blockers

Wikia is not accessible if you've made further modifications. Remove the custom ad blocker rule(s) and the page will load as expected.