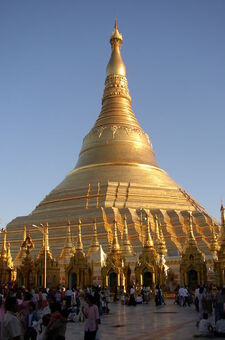 Rangoon, officially named Yangon, is the largest city (population: 4,082,000) of Myanmar, known formerly as Burma. The city was founded about 1500 years before and iots name was Dagon at that time. The city has served as the capital of Myanmar for long time - until the political capital was shifted to Naypyidaw in March 2006. For all practical purpose, Rangoon continues to represent the life, society, culture and commercial aspects of Myanmar.
Hotels and lodging
Edit
Attractions
Edit
Maps and transportation
Edit
Getting to Rangoon
Edit
Exploring Rangoon
Edit
Practical information and resources
Edit
Currency: kyat (K) (mmK)
Time Zone: MMT (UTC+6:30)
Official language: Myanmar (Burmese)
Climate & Weather: Rangoon has an equatorial climate. The table below present the select weather data
Month
Jan
Feb
Mar
Apr
May
Jun
Jul
Aug
Sep
Oct
Nov
Dec
Year
Avg high °C
(°F)
31
(89)
34
(94)
36
(97)
37
(99)
33
(92)
30
(86)
29
(85)
29
(85)
30
(86)
31
(88)
31
(89)
31
(88)
32
(90)
Avg low temperature °C
(°F)
18
(65)
19
(67)
21
(71)
24
(76)
25
(78)
25
(77)
24
(76)
24
(76)
24
(76)
25
(77)
22
(73)
19
(67)
22
(73)
Source: Weatherbase
Restaurants
Edit
Text with links to user-reviews on other pages
Edit
Nightlife
Edit
Photo gallery
Edit
Everything else
Edit
Got something to say that doesn't fit in the other sections of this page? Add it here!
External resources
Edit
Add links to other sites here
Ad blocker interference detected!
Wikia is a free-to-use site that makes money from advertising. We have a modified experience for viewers using ad blockers

Wikia is not accessible if you've made further modifications. Remove the custom ad blocker rule(s) and the page will load as expected.