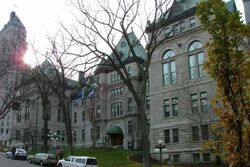 Quebec City or Québec* (French: Ville de Québec, or simply Québec) is the capital of the Canadian province of Quebec. It is the largest city in eastern Quebec. Quebec's Old Town (Vieux-Québec), the only North American fortified city north of Mexico whose walls still exist, was declared a World Heritage Site by the United Nations Educational, Scientific and Cultural Organization (UNESCO) in 1985. The city has a population of 528,595, and the metropolitan area has a population of 717,600 (2005).
Hotels and lodging
Quebec Hilton This is a beautiful, elegant hotel located a block from the walls. It is 23 stories tall, providing most rooms with a remarkable view. It has an outdoor pool for the summer months, and a full fitness room, with benches, free weights, weight machines, and cardio equipment.
Attractions
Shopping
Maps and transportation
Getting to Quebec city
Exploring Quebec city
Practical information and resources
Restaurants
Text with links to user-reviews on other pages
Nightlife
Photo gallery
Everything else
Got something to say that doesn't fit in the other sections of this page? Add it here!
External resources
Add links to other sites here
Ad blocker interference detected!
Wikia is a free-to-use site that makes money from advertising. We have a modified experience for viewers using ad blockers

Wikia is not accessible if you've made further modifications. Remove the custom ad blocker rule(s) and the page will load as expected.