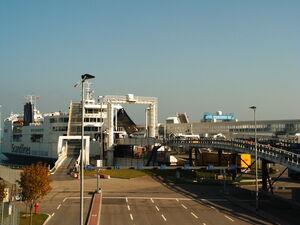 Puttgarden is a ferry harbour on the German island of Fehmarn. It lies on an important route between Germany and Denmark known as the Vogelfluglinie which crosses the 18 km strait, the Fehmarnbelt, to Rødby on the island of Lolland.
Hotels and lodging
Edit
Getting into Germany via Scandlines Puttgarden on the E 47 drive towards the A1 leaving Fehmarn behind exit at Großenbrode to get to Hotel Restaurant Landkrug Teichstr. 17 23775 Grossenbrode Tel +49-4367-309 Fax +49-4367-8615 E-mail BurkhardHaasch@freenet.de. Just 800m of the highway and just the 3rd street left after the yellow village sign.Do come and visit us the whole year.
Attractions
Edit
You will find the Border Shop directly in the habour of Scandlines. This special shop is open for everybody, but with an extra for scndinavian people: these only can buy cans without deposit for them, to export those to the northern countries. The sortiment anyhow is dominated by wine and alcoholic side because of the savings if you go to the north.
More shops are in Burg/Fehmarn, Heiligenhafen and Grossenbrode. These also have a speciality for the Germans, because they are open on Sunday. This is due to the region being a beach resort. As a holiday destination before the Fehmarnbelt, they are open beside November and until 15 th of December.
Maps and transportation
Edit
Getting to Puttgarden
Edit
Exploring Puttgarden
Edit
Practical information and resources
Edit
Restaurants
Edit
Puttgarden on the isle of Fehmarn is nowadays the entryport to Germany for Scandinavic visitors. On the way to mainland via E47 to A1 you exit at the village of Großenbrode. Here you find for example just 800m away from the highway, the third street left after the village sign; Hotel Restaurant Landkrug Teichstr. 17 23775 Grossenbrode. Open all around the year starting 8:00 AM. Meals are always served, but please do call ahead for very fresh fish or meat fron regional Suppliers or fisherman. Tourbot ( Steinbutt, Pigvar or meat of local dear or wild rabbit) in the offseason always do reserve by phone ahead at least 1– 2 hours Thank you .Telefon +49-4367-309 Fax +49-4367-8615 mobil +49-173-6420696 &nbsp e-mail BurkhardHaasch@freenet.de
Text with links to user-reviews on other pages
Edit
Nightlife
Edit
Photo gallery
Edit
Everything else
Edit
Got something to say that doesn't fit in the other sections of this page? Add it here!
External resources
Edit
Add links to other sites here
Ad blocker interference detected!
Wikia is a free-to-use site that makes money from advertising. We have a modified experience for viewers using ad blockers

Wikia is not accessible if you've made further modifications. Remove the custom ad blocker rule(s) and the page will load as expected.