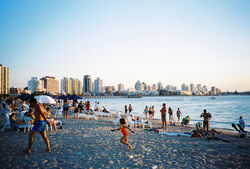 Punta del Este (East End) is a popular vacation spot on the southeastern tip of Uruguay, southeast of the inland traditional town of Maldonado and about 140 km east Montevideo. It is considered to be the border between the Rio de la Plata and the Atlantic Ocean. For this reason it is one of the only beach resorts in the world to have two different kinds of beaches: La Brava, which has waves that make it ideal for surfing; and La Mansa, which has no waves and is popular among families and also those who practise sports such as windsurfing and skiing. Every southern hemisphere summer ¨Punta¨ is flooded with hi-class porteños as well as some of the world's jet set making it an ideal clubbing resort at Latin-American prices. Edit this section or read more
Hotels and lodging
Edit
While Punta del Este Conrad Hotel & Casino stands as THE 5-star hotel some may argue it's not the best option. Although it looks like a tacky Las Vegas monolith one must admit that the jacuzzis overlooking La Mansa's sunsets are tempting. On the other hand, Hotel San Rafael & Casino is a Tudor antique between the cypress woods and La Brava (parada 12). Many would argue that the red brick yesteryear palace needs recycling (which's already had twice) but it's ideal for romanticists. Farther north, in charming La Barra (the place Mick Jagger choses to gulch when travelling to the Southern Cone), we find the Leading Hotels of the World awarded Cipriani Hotel & Casino, brand new and the only one of its kind.
For a less extravagant budget there're many options of Hotels, however renting a flat in the peninsula or a house in the woods is still the best cost-benefit option.
Attractions
Edit
The Best real estate company is ´Toti Gattás´in La Barra. You can rent houses and also buy. His owner is a very well recognized man of Punta Del Este.
Maps and transportation
Edit
Getting to Punta del Este
Edit
Exploring Punta del Este
Edit
Practical information and resources
Edit
Restaurants
Edit
Breakfast: Il Grecco, in Gorlero st. and 30th (peninsula) serves the BEST croissants in the world. We're not talking about French style croissants, but a unique piesce of honey-soaked pastry that's served with a jar of coffee and another of foamy milk as well as worldwide newspapers. It's been a must go for decades, no one's ever regretted that choice (fact).
Restaurants: open and close constantly in hectic Punta del Este so let's talk about those that've survived the test of time. For a generous budget try ¨Los Negros¨ in Jose Ignacio or ¨El Garzón¨ (in Garzón) both jewels where Francis Mallmann prepares the most acclaimed dishes of the continent. For the less snobbish, more connoisseur, the Relais et Chateaux awarded ¨La Bourgogne¨ offers the best French cuisine. Chef Jean Paul Bondoux prepares his delights with the fruits of his own garden and those of the sea. If the view is all that matter for a pleasant meal, definitely try the restaurant in Casapueblo (hotel & art gallery-museum). International cuisine enphasizing in pasta and seafood. Prices are completely affordable.
If you are looking for a good restaurant where you can go after the beach which has a wonderful view to the sea, REX in La Barra is the best idea. It has a New York style, and has the best `Chivito` in town. His owner has a very good mood everyday and always receives you with his ´buena onda´. If you need to check the menu you can enter to www.rexpuntadeleste.com.
Surely if refinancing your property is not in your vacation plans then we should talk about the ¨Schoppgarden¨, a crowded and lively German-Uruguayan Beer and Pizza place in Gorlero st. Overlooking the marina you can also find dozens of little restaurants, some of them have wooden plattforms where you can have a coffee or a meal 10 feets away from the sea.
Text with links to user-reviews on other pages
Edit
Nightlife
Edit
At night Punta Del Este has many opptions for all ages..
For Teenagers: Ocean Club, a night club for teenagers between 12 and 14, has everyday something special for you for example.. Water wars, The day of the burger (where they give you burgers), miss ocean (where beautiful girls model), and other fantastic things. For Teenagers between 15 and 18 BA is a cool place to go dancing. It is almost the same as Ocean but for older people and with not much surprises. For this teenagers also a good idea is Piratas on La Barra, but it is for older peolple also.
For Adults: Between 20, 24 or more you have Tequila, Poomas, and Iguana. They are all located in La Barra. Between: 30 and more, you have plenty of restaurants, and private parties like Lacoste party, some good ones, and some places where famous people go
You´ll have a wonderful time in Punta Del Este!
Photo gallery
Edit
Everything else
Edit
Got something to say that doesn't fit in the other sections of this page? Add it here!
External resources
Edit
Add links to other sites here
Ad blocker interference detected!
Wikia is a free-to-use site that makes money from advertising. We have a modified experience for viewers using ad blockers

Wikia is not accessible if you've made further modifications. Remove the custom ad blocker rule(s) and the page will load as expected.