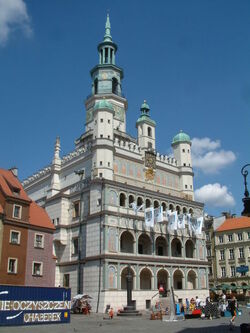 Hotels and lodging
Novotel Poznan - if you like blue haired German bus tourists and buffet breakfast for 200 people, then this is your kinda place. Rooms are large but uninspiring. Convenient to the old square and the brewery mall.
Mercure Hotel - A superior room is both small and dirty. Can't get more than one towel from housekeeping to save my life. Bar reeks of cheezy. Convenient to airport.

Others
Attractions
Shopping
Maps and transportation
Getting to Poznan
Exploring Poznan
Practical information and resources
Restaurants
Text with links to user-reviews on other pages
Nightlife
Photo gallery
Everything else
Got something to say that doesn't fit in the other sections of this page? Add it here!
External resources
Add links to other sites here
Ad blocker interference detected!
Wikia is a free-to-use site that makes money from advertising. We have a modified experience for viewers using ad blockers

Wikia is not accessible if you've made further modifications. Remove the custom ad blocker rule(s) and the page will load as expected.