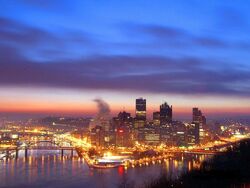 Hotels and lodging
Edit
Morning Glory Inn2119 Sarah Street Pittsburgh, PA 15203. Stay at our Bed and Breakfast in Pittsburgh located on the south side of the city. The great location, comfort & our event facilities makes our b&b memorable!
Courtyard Pittsburgh Airport - 450 Cherrington Parkway. Phone 1-412-264-5000. Located 7 miles from Pittsburgh International Airport (PIT) with complimentary shuttle service. 
Attractions
Edit
The Gateway Clipper fleet is a wonderful set of liners that take passengers on a nice ride about the three rivers.
Southside Pittsburgh. From Station Square to the new South Side Works, the first three miles along the Monongahela River's south bank extend from the old-guard to the avant-garde. They're steeped in history, shaped by commerce and tooled by tradition. http://www.southsidepittsburgh.com/
Southside Works The South Side of Pittsburgh is best known for its unique and eclectic atmosphere offering everything from upscale ethnic restaurants to vintage antique parlors. http://www.southsideworks.com/
Carnegie MuseumsFantastic Art Museum Directory. The Mattress Factory- Exhibits by artists-in-residence, permanent installations by James Turnure. http://www.mattress.org/
Clayton & The Frick - Clayton, the former home of the Frick family, is open for tours, and the 5½ acre grounds also include the Frick Art Museum, the Car & Carriage Museum, the Greenhouse, and a delightful Café. http://www.frickart.org

The Pittsburgh Zoo - Open all year, the zoo is world renowned for its North American and exotic animals. It's easy to navigate, and there are strollers and wagons available for the kids. The aquarium is completely new and is now open. http://www.pittsburghzoo.com/
Kennywood Park - Kennywood is a famous amusement park with tons of rides for kids and adults alike, including terrific wooden rollercoasters. http://www.kennywood.com/

Idlewild Park - Idlewild is located about an hour east and is very family-oriented. http://www.idlewild.com/
Maps and transportation
Edit
Getting to Pittsburgh
Edit
Exploring Pittsburgh
Edit
Practical information and resources
Edit
If you go to Pittsburgh without eating at Primanti's, you're gonna have a bad time.
Restaurants
Edit
Primanti Brothers has overstuffed sandwiches.  They put the fries in the sandiwch.  The sandwiches taste great with an Iron City or a Yuengling.
Nightlife
Edit
Penn Brewery
Photo gallery
Edit
Everything else
Edit
Got something to say that doesn't fit in the other sections of this page? Add it here!
External resources
Edit
Add links to other sites here