Hotels and Lodging
Edit
Amari Coral Beach Resort
Edit
Sitting on a secluded headland at the southern corner of Patong, Phuket's most popular beach, the Amari Coral Beach Resort affords spectacular views of the picturesque bay. Each of the 197 superior and deluxe guestrooms and suites has its own private balcony and a wonderful seaview. There are excellent recreational facilities including two swimming pools, and a fitness room plus superb restaurants to choose from, making this resort the perfect place for a wonderful vacation.
Dining: Enjoy delicious Italian dishes in the romantic bay-side La Gritta or Thai dishes in a classic Thai setting in the Kinaree. Rim Talay offers both international and Asian cuisine and the Lobby Bar, with its soothing view of yachts bobbing in the bay is the perfect place for a relaxing after dinner drink. The Jetty, with its cooling sea breeze is a relaxed place to enjoy a cocktail and canapés.
Sports: For those who wish to see Phuket's beautiful coral seascape, fully qualified PADI instructors are based at the resort in the scuba diving centre. There are two swimming pools, and a fitness centre at the hotel itself, while a variety of watersports are available nearby.
Additional features: Amari Coral Beach Resort has a secluded small private beach. There is a beauty salon, shopping arcade, tour desk and limousine service in the resort while cars are available for hire for those who wish to go exploring round the island.
For relaxation, there is the Sivara Spa offering a range of massage body and facial treatments in a unique tropical setting. Each of the four open-air salas is perched on a hillside with superb ocean views.
Accommodation: All the guestrooms have a balcony with seaview and have been recently renovated with a bright and modern design. The superior rooms have a shower only, whilst the deluxe rooms are slightly larger and upgraded amenities. All rooms have coffee and tea making facilities. The suites are ideal for honeymoon couples.
For more info [1] www.amari.com/coralbeach
Attractions
Edit
Snuba Dive Phuket Thailand on some of the most amazing reefs in Asia. Snuba is a great water activity that can be done by anyone 8 years old and up that has basic swimming abilities. Snuba diving is just like scuba except that the heavy tank floats on the surface in the special Snuba raft and the divers are connected to the raft via a lightweight harness and air line. The air line limits the depth to a maximum of 7 meters or 21 feet which adds to Snuba's exceptional safety record. Read more about Snuba here SNUBA info Snuba is a great family activity and also a great adventure to share with someone while on holiday in Phuket. ALOHA Phuket Diver is Thailand's SNUBA operator and has many different options for Snuba tours in Phuket. There are Snuba beach dives or Half and Full day Snuba trips to the islands around Phuket. While you are in Phuket try Snuba and experience the thrill of breathing underwater and getting up close to all of the amazing fish on Phuket's reefs. SNUBA Dive Phuket Thailand
Maps and transportation
Edit
Getting to Phuket
Edit
Exploring Phuket
Edit
Practical information and resources
Edit
Restaurants
Edit
Delicious Design, Contemporary Cuisine... Perfect Location!
La Gritta Italian Restaurant, Patong Bay, Phuket
Probably the most romantic restaurant in Phuket... An outstanding Italian menu, contemporary decor, a superb bay-side setting and an excellent wine cellar all conspire to make dining at La Gritta an unforgettable experience. La Gritta Terrace provides the perfect location to experience mouthwatering Italian cuisine, whilst enjoying the fresh sea air and watching the sun set on the horizon. La Gritta has 48 seats inside, open from 18:00 to 24:00. La Gritta Terrace has 36 seats outdoors and is open from 10:00 to 24:00. Both are open every day. To make a reservation or for information, email: lagritta@coralbeach.amari.com
Or visit [2] www.amari.com/coralbeach/lagritta.asp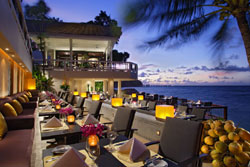 Text with links to user-reviews on other pages
Edit
Nightlife
Edit
Photo gallery
Edit
Everything else
Edit
Got something to say that doesn't fit in the other sections of this page? Add it here!
External resources
Edit
Add links to other sites here