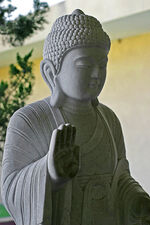 Patna, the capital city of the eastern Indian state of Bihar, lies on the southern bank of the Ganges River, the longest river of India. The modern Patna, with a population of around 1.2 million, is spread over around 100 km2. The city does not find any mention in ancient Indian texts like the Vedas and other scriptures of great antiquity. However, it is one of the oldest places in India continuously populated for at least last 2,500 years. The Chinese traveler, Megasthenes (350 BC-290 BC) talks of a city called Palibothra (that is, Pataliputra, old name of Patna), a vibrant city located on the confluence of two major rivers of the region, the Ganges and the Sone. According to him, the city was 9 miles long and 1.75 miles wide. The legend states that Gautam Buddha (around 6th century BC), who propagated Buddhism, had passed through ancient Patna, and he had predicted a great future for the city. At the same time, he has warned of its ruin from flood, fire, and feud. And, this turned out to be correct. Once upon a time, the city served as the capital of a large empire, from where emperor Chandragupta Maurya (4th century BC, and a contemporary of Alexander) ruled a large empire, which touched the shores of the Bay of Bengal on the eastern side, and reached beyond Kabul (Afghanistan) on the western side. The city has seen rise and fall of many mighty empires and rulers; and, in a sense, encapsulates within its history, the history of India.
The present day Patna, not so glorious as its past, is still an important center of trade and commerce of the eastern India, preceded only by the metropolis of Kolkata. The city has many spots of historical importance, and is a gateway to many places of historical importance and associated with older religions of India, namely, the Hinduism, the Buddhism and the Jainism. You may plan your trips and excursions to places associated with these religions like Vaishali, Rajgir (also spelt as Rajgriha), Nalanda, Bodhgaya, and Pawapuri. It is interesting to note that the birthplace of Guru Govind Singh, the tenth and the last Guru of the Sikhs lies on the one side of the city lies the place where the last and the tenth Sikh Guru, Guru Govind Singh (1666-1708) was born, and on the other side of the city there is a famous mausoleum of a Muslim Sufi saint named Makhdoom Yahya Maneri (13th century). This completes the bouquet of all the major religions extant in India.
Hotels and lodging
Edit
In case, you do a little of homework, you shall find in Patna suitable accommodation which suits your budgets. Just by way of an indicative list, mentions may be made of the following hotels:
Hotel Pataliputra Ashoka: (Telephone no/s. 91-612-2226270-75)
Hotel Republic: (Telephone no/s. 91-612-2320021/ 22)
Hotel Samrat International: (Telephone no/s. 91-612-2220560-67)
Hotel Windsor: (Telephone no/s. 91-612-2203250-54)
Hotel Chanakya: (Telephone no/s. 91-612-2220590-96)
Maurya Patna: (Telephone no/s. 91-612-2203040)
Hotel President: (Telephone no/s. 91-612-2209200/05)
Hotel Republic: (Telephone no/s. 91-612-2320021/22)
Hotel City Centre
Attractions
Edit
If you desire to feel the pulse of real Patna, you would perhaps like to see the following places:
Agam Kuan, which literally means the unfathomable well, dates back to the period of Emperor Ashoka.
Hanuman Mandir, a Hindu place of worship dedicated to Hanuman, and a very favourite place of devout Hindus of Patna.
Kumhrar, the place where archeological remains of ancient Patna have been discovered.
Takht Shri Harmandir Saheb, a Sikh Gurudwara constructed by Punjab ruler Maharaja Ranjit Singh to sanctify the birthplace of Guru Gobind Singh, the tenth and the last Guru of the Sikhs.
Padri Ki Haveli is a Church, the oldest church in Bihar, and was built in 1772.
Golghar, a brick structure looking like a beehive and hollow from within, which served as a large granary and was constructed soon after a big famine in 1770. Its construction was completed in 1786.
Patna Museum, nicknamed as Jadu Ghar (that is, the house of magic), is a treasure trove of stone and bronze sculptures; terracotta figures of Hindu and Buddhist artists; and many other items of antiquity. The museum house Didarganj Yakshi [1], one of its most prized collections.
Khuda Baksh Oriental Library has a large collection of rare ancient manuscripts.
Qila House, also known as Jalan House, is a private museum (though visitors are allowed on invitation). It has a large collection of jade items, Chinese paintings and many other works of oriental arts.
Martyrs Memorial, which commemorates the killing of seven school and college students during the Quit India Movement (1942) to free India from the rule of the colonial powers.
Sadaqat Ashram, located on the bank of the Ganges River, is associated by national Indian leaders like Mahatama Gandhi. India's first president, Dr. Rajendra Prasad, retired to this place and lived there until his death in 1963.
After seeing, feeling, and experiencing Patna, it would not be a bad idea to have some trips outside the city. However, please remember that you should travel by taxis from reliable companies or buses operated by reliable tourist agencies. You may wish to see the following places, distances from Patna mentioned within brackets:
While Vaishali lies on the north of Patna across the Ganges River, all the other places are south of Patna, with reasonably good accommodation available in Bodh Gaya.
In case, you still feel to roam around in this part of the globe, it would not be a bad idea to take a flight from Patna to Kathmandu, and saviour the beauty of the enchanting Kathmandu Valley of Nepal.
Maps and transportation
Edit
Getting to Patna
Edit
Exploring Patna
Edit
Practical information and resources
Edit
Currency: Indian rupee (INR), one USD equals to around 46 INRs
Electric supply: Be prepared for interruptions of electric supply, with or without notice. However, most of the hotels and restaurants have stand-by electricity generators.
Opening hours: You shall find shops open from mostly from 8 am until 8 pm.
Some practical tips:

Please remember that the city has a local transport for namesake only. As such, you have to hire taxis or three wheelers called Auto Rickshaws; and negotiate the charges before you actually travel.
Please avoid traveling late in the nights, and particularly do not make night journeys by roads.

Language: Hindi, though you may manage with simple English.
Restaurants
Edit
Text with links to user-reviews on other pages
Edit
Nightlife
Edit
Frankly speaking, Patna nightlife is rather bland, and the city has almost no nightlife [2] as the term is generally understood in the countries of the West. However, due to recent modern upgrades in the city and students returnign from more cosmopolitan cities such as Mumbai and Delhi, some lounges have started in Patna. One is The Purple Lounge, Patna and another being The Liquid Lounge. Additionally, famous cricketer Kapil Dev has placed one of his franchise restaurant's Kapil's 11 in Patna. Other options are the country clubs which have bars open late into the night such as Bankipore Club which has an underground bar, a pool, a health club restaurant, etc. The most recent addition is a "discotheque", called "The Disc Man", however it shuts at 11 pm. It is more of a party hall and  the entry for disco is couples only.
Photo gallery
Edit
Everything else
Edit
Got something to say that doesn't fit in the other sections of this page? Add it here!
External resources
Edit
Add links to other sites here
| | |
| --- | --- |
| Phrase in English | Phrase in Hindi |
| Hello | Namaste |
| Yes | Haan |
| No | Nahin |
| Thank you | Shukriya |
| How are you? | Aap kaise hain? |
| Nice to meet you? | Aapse milke khushi hui? |
| What is the price? | Kya daam hai? |