Papau New Guinea has a long and established history, a beautiful landscape which was found home by ancient inhabitants who have said to have dated back from over 50,000 years ago.
Known in the beginning as simply New Guinea, this landmass was one of the first to be populated by modern humans, migrating from the time Australia was being colonized.
Today, the people are largely descendants of the Papuans, with their origins coming many smaller island countries like Fiji, Vanuatu and Papua New Guinea itself. There are more than 800 local languages and dialects, and over 7 million people currently living in the region.
Papua New Guinea


Information

Capital

Language(s)

Tok Pisin (Melanesian Pidgin, the lingua franca), Hiri Motu (in Papua region), English 1%–2%; 715 indigenous languages

Population

7.167 million (2012)

Ethnic Groups

Melanesian, Papuan, Negrito, Micronesian, Polynesian

Government

Unitary state, Constitutional monarchy, Parliamentary system

Currency

Papua New Guinean kina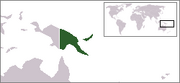 Hotels and lodging
Edit
Attractions
Edit
Maps and transportation
Edit
Getting to Papua New Guinea
Edit
Exploring Papua New Guinea
Edit
Practical information and resources
Edit
Restaurants
Edit
Text with links to user-reviews on other pages
Edit
Nightlife
Edit
Photo gallery
Edit
Everything else
Edit
Got something to say that doesn't fit in the other sections of this page? Add it here!
External resources
Edit
National Parliament of Papua New Guinea
Papua New Guinea - Lonely Planet
Papua New Guinea / PNG Official Tourism Website
Ad blocker interference detected!
Wikia is a free-to-use site that makes money from advertising. We have a modified experience for viewers using ad blockers

Wikia is not accessible if you've made further modifications. Remove the custom ad blocker rule(s) and the page will load as expected.