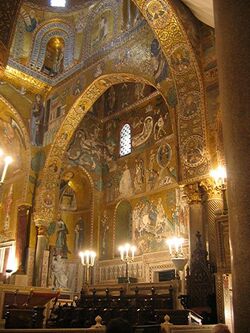 Hotels and lodging
Edit
Mid-range
Edit
Hotel Gallery House, Via Mariano Stabile 136, 90139, Ph. +39.091.6124758 Fax +39.091.6124779. [1]. In the heart of Palermo, Hotel Gallery House offers elegant classy rooms, the ideal solution for business or pleasure travel.
Hotel Conchiglia D'Oro,Viale Cloe, 9, 90151 Palermo Ph. +39 091.450359, Fax: +39 091.450359 [2]. In Mondello, between Villas and gardens, unwind from the summer chaos, Hotel Conchiglia d'Oro welcomes guests in a sober environment enriched with comfort and service for an excellent stay. Check the web for more infos.
Hotel Joli,Via Michele Amari, 11, 90139 Palermo Ph. +39 091.6111765, Fax: +39 091.6111766 [3]. Hotel Joli is a true jewel as far as hospitality is concerned, where rooms adorned with frescoes and the finest decor as well as the most modern services and comfort, provide the traveler the most delightful of stays.
Villa Cefalà,Via SS 113, 48, 90017 Santa Flavia - Palermo Tel. +39 091.931545, Fax: +39 091.941616 [4]. The Villa Cefalà farm holiday offers charming rooms in a period residence thirty minutes from Palermo overlooking the sea on Sicily's northern coast.
Hotel Residenza D'Aragona, Via Ottavio D'Aragona, 25, 90139 Palermo Ph. +39 091.6622222, Fax: +39 091.6622273 [5]. Elegant and opulent, filled with modern comforts and impeccable services, the rooms at Hotel Residenza D'Aragona are the best for those who are traveling for business or pleasure to Palermo: in the historical center, near the grandiose Politeama and Massimo theaters. Single from €80 Double from €120.
Attractions
Edit
Maps and transportation
Edit
Getting to Palermo
Edit
Exploring Palermo
Edit
Practical information and resources
Edit
Restaurants
Edit
Text with links to user-reviews on other pages
Edit
Nightlife
Edit
Photo gallery
Edit
Everything else
Edit
Got something to say that doesn't fit in the other sections of this page? Add it here!
External resources
Edit
Add links to other sites here