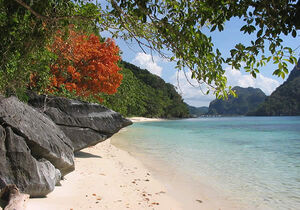 Palawan is a province of the Philippines.
Hotels and lodging
Edit
Villa Hermosa Hotel Coron Palawan San Agustin Street Barangay Poblacion 2, Coron, Palawan, 5316. Villa Hermosa Bed and Breakfast is located in the heart of Coron, Palawan which makes it very accessible to shops, banks, markets and restaurants. This place is recommended for travellers and tourists on a budget. Continental or Filipino breakfasts are also served.
Coron Hilltop View Resort Brgy. Poblacion 6, Sitio Dipulao, Coron Palawan. Coron Hilltop View Resort offers fully-airconditioned Deluxe Villas located at a tropical location in Coron, Palawan. Avail of the resort's Tour Packages for island hopping and scuba diving. Try the array of sumptuous cuisine of Asian and authentic Filipino food the restaurant provides.
Oro Bonito Hotel Puerto Princesa 2nd Floor Oro Bonito Building National Highway, Barangay San Miguel, Puerto Princesa City, Palawan 5300, Philippines. Oro Bonito Hotel is located at the heart of Puerto Princesa City near the airport, restaurants and bars of the city. The hotel has 10 furnished rooms, with hot and cold shower and offers complimentary breakfast.
GMG Hotel Coron National Highway, Cor. Don Pedro St. Coron, Palawan, 5316, Philippines. GMG Hotel is conveniently located in the town proper of Coron, Palawan. The place is ideal for travelers who'd like to be near the town restaurants, shops and market. The hotel has a swimming pool and offers scuba diving and island hopping packages.
First Oriental Lodge Coron Don Pedro St., Barangay 3, Coron, 5316 Philippines. First Oriental Lodge offers aircon and fan rooms for travellers on a budget. All rooms are equipped with basic hotel amenities. The hotel is located in front of Coron Tourism Centre near Mt. Tapyas Point and Maquinit Springs.
Amphibiko Resort Coron Brgy. 5, Bancuang, Coron Palawan, Philippines, 5316. Amphibi-Ko Resort Lodge offers budget accommodation and island tours in Coron. The lodge has clean rooms with cozy ambience and has an in-house restaurant that serves Japanese cuisines. Located in Poblacion 5, Coron, Palawan.
Princess of Coron Resort Nueva Street, 6, Barangay 1, Coron Town, 5316. Princess of Coron Resort offers airconditioned guestrooms from Standard to Family hotel rooms furnished with quality amenities. The resort is located in Busuanga Island near El Nido, Sabang Beach and Estrella Falls.
Dive Link Resort Coron Barangay Lajala, Uson Island, Coron, 5316. Dive Link Resort Coron offers airconditioned hotel rooms:Standard, Budget, Bungalow and Family Garden Cottages. Island tour packages and water sports activities are also being offered at the resort located in Uson Island.
Attractions
Edit
Maps and transportation
Edit
Getting to Palawan
Edit
Exploring Palawan
Edit
Practical information and resources
Edit
Restaurants
Edit
Text with links to user-reviews on other pages
Edit
Nightlife
Edit
Photo gallery
Edit
Everything else
Edit
Got something to say that doesn't fit in the other sections of this page? Add it here!
External resources
Edit
Add links to other sites here