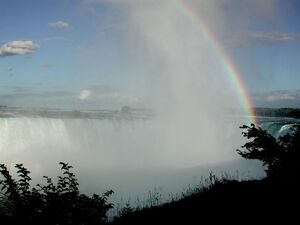 Niagara Falls is a set of massive waterfalls located on the Niagara River in eastern North America, on the border between the United States and Canada. Niagara Falls (French: les Chutes du Niagara) comprises three separate waterfalls: the Horseshoe Falls (sometimes called the Canadian Falls), the American Falls, and the smaller, adjacent Bridal Veil Falls. While not exceptionally high, Niagara Falls is very wide. With more than 6 million cubic feet (168,000 m³) of water falling over the crestline every minute [1] it is the most powerful waterfall in North America [2] and possibly the best-known in the world.
Edit this section or read more
Hotels and lodging
Attractions
Niagara Falls Sightseeing Tours
Shopping
Maps and transportation
Getting to Niagra falls
Exploring Niagra falls
Practical information and resources
Restaurants
Text with links to user-reviews on other pages
Nightlife
Photo gallery
Everything else
Got something to say that doesn't fit in the other sections of this page? Add it here!
External resources
Add links to other sites here
Ad blocker interference detected!
Wikia is a free-to-use site that makes money from advertising. We have a modified experience for viewers using ad blockers

Wikia is not accessible if you've made further modifications. Remove the custom ad blocker rule(s) and the page will load as expected.