Pepsi World Rivers
Here it's possible to go around the world as guests visit nine different rivers from five continents. Voyage from the Wenlock River in Australia to the Mekong River in Thailand or find out what's in your own backyard in Kentucky's Licking River! Along the way, make stops in South America and Africa before heading through our Caribbean Cove tunnel featuring Lookdowns. Also see Blind Cave Fish, Cardianal Tetras, Cichlids, a Mbu Pufferfish, sharks, and many more.
Shore Gallery
See a Four-eyed fish, Mudskippers, Banded Archerfish, Diamondback terrapin, Up side-down catfish. All these and many more wonders from Eastern North America, South America and Asia make their home in the Shore Gallery. In addition to the eight tanks of odd fish featured in this gallery, see these animals close up in the Tide Pool. Where guests can touch a Horseshoe Crab, a Whelk or a Sea Star. there is also a tropical Pacific shore with actual waves, that is home to Lagoon triggerfish and more.
If guests are lucky, they might see a rescued baby Loggerhead sea turtle temporarily displayed in one of the exhibits. The Newport Aquarium helps rehabilitate baby sea turtles until they can be release back into the ocean.
Before exiting the Shore Gallery visitors will walk through a recreation of a California Kelp Forest, filled with Wolf Eels, Swell Sharks and the California Sheephead.
Bizarre and Beautiful The Bizarre and Beautiful Gallery was one of the original exhibit areas when the Aquarium opened in 1999. With new technology, new display cases and new animals available, Aquarium biologists completely reconstructed and expanded the gallery to be bigger and more bizarre in 2010. It's filled with more than 20 species of the world's most weird and wonderful aquatic animals. One of the most popular features of the old gallery is back and displayed better than ever. A Giant Pacific octopus is on display in a new multi-dimensional, 360 degree, see-through aquarium where it can demonstrate its amazing ability to squeeze into exceptionally small areas. The Bizarre and Beautiful Gallery also features Pot-bellied seahorses, Striated frogfish and Yellow boxfish, among many other species, in nearly 12,000-gallons of water. Visitors will also marvel at the Japanese spider crabs that usually dwell in the dark cold waters of Asia and are rarely seen.
There are also Discus fish, Cardinal tetras, Percula clownfish, Razorfish, Elephantnose fish, Eyelash viper, Amazon leaf fish, Spotted garden eels, Flaming scallops, Grunt sculpins,
P
acific Spiny lumpsuckers,
U
mbrella crab,
P
ainted greenling, and a large tank for Slender-spined porcupinefish, and Deepwater burrfish.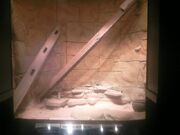 Dangerous and Deadly
In 11 displays, encounter the most feared and lethal animals in the wild, such as Electric Eels, graceful Red Lionfish, extremely venomous Stonefish, Red-eyed Piranha and Thunder, an Alligator Snapping Turtle. There is also displays featuring Gila monsters, Spotted wobbegong sharks, Power Blue Tang Pinecone fish, Humpback grouper, Whitespotted bamboo shark, Tentacled snake, a Gaboon viper and a Florida Water Moccasin
Turtle Town
Features 8 displays of small turtles and other species from around the world. Like the Ringed map turtle, Red-eared slider, Mudpuppy, New Guinea snake-necked turtle, Pancake tortoises, Mata mata, Emperor scorpions, and an Eastern Screech Owl.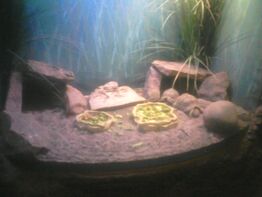 Ohio Riverbank
This is one large tank for many Lake Sturgeons, Florida cotters and many other fish native the Ohio River.
'Gator Bayou
The Gator Bayou gallery hosts six 2-year-old American alligators that were added to the Aquarium collection in 2010. It also eatures a bridge where guests can walk on and see through two large windows which it allows visitors to watch the animals swim from below their feet. Also see a Blue catfish, an Alligaotr gar, Bluegill and Redear sunfish.
Frog Bog
The Frog Bog features over 20 species of exotic frogs from around the world. Kids are encouraged to learn about frogs and the environmental issues facing these amazing creatures. The Frog Bog is filled with fun interactive exhibits kids will love playing with and learning from. They'll be able to make three-foot-tall replicas of frogs "sing." There's also a "Frogger" type of video game that kids can play by jumping on frog pads. Kids can explore exhibits and learn about frogs while climbing through tunnels, crawling through tubes and sliding down slides. See frogs and toad species like the American Bullfrog, Afircan clawed frog, Tomoato frogs, Colorado River Toad, Red-eyed tree frogs, and Poison dart frogs.
Rainforest
See the endangered Asian small-clawed otters, and lorikeets reside in a humid rainforest. At the Newport Aquarium, you get to step into one of the most rich and diverse habitats on earth. See the otters entertain in their one-of-a-kind stomping ground, complete with plant life, rockwork and waterfall.
To top it off, you'll have the opportunity to feed our beautiful free-flying birds throughout Lorikeet Land. In Lorikeet Land there is a Laughing Kookaburra, Goldie's Lorikeet, Rainbow Lorikeet, Weber's Lorikeets, Ornate Lorikeets, and Swainson Blue Mountain L orikeets. There is also a large enclosed exhibit for Sarah and Bubbles the Burmese pythons, Giant Gourami and Malaysian Painted River turtles.
Walk along the floor of the Amazon River, during its flooded season, thanks to our 32.5 feet long seamless tunnel, which bisects an 117,000-gallon fresh water tank. Here guests will come face-to-face with an Arapaima, the largest of all freshwater fish and exotic fish like the Pacu, Redtail catfish, Silver arowana, Long-tailed river stingray and Perch.
Coral Reef
The fourth of our acrylic tunnels immerses you in the color and splendor of an Indo-Pacific coral reef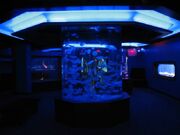 environment. With approximately 60,000 gallons of seawater, this exhibit introduces you to colorful Yellow and Blue Tangs, playful Whitemargin Unicornfish, and Honeycomb Moray Eels.
Jellyfish Gallery
The Jellyfish Gallery is the largest, coolest jellyfish exhibit in the Midwest. Guests will be mesmerized and amazed by nearly a hundred jellyfish representing a variety of exotic species, a giant, 360-degree tank and three new see-through tanks you can walk around. There's a new interactive tank where you can make jellies change colors and a giant new Jelly Wall where you
can play tag with jellies. It features Moon Jellies, West Coast Sea nettles, Spotted Jellies and Up side-down jellyfish.
Surrounded By Sharks
Guests will see history-in-the-making with our two extremely rare Shark Rays – Sweet Pea and Scooter – who are the stars of the only Shark Ray breeding program in the world. Their grace and beauty co-exist in the tank with powerful Sand Tiger Sharks that are up to 10 feet in length.
They will marvel at 85 feet of acrylic underwater tunnels that wind their way through this 385,000-gallon tank. Walk over our see-through floor or peer through our picturesque bubble windows and get a view of this exhibit like no other. Sand Tiger, Sandbar, Whitetip Reef, Blacktip Reef, Nurse, and Zebra sharks peacefully swim with Southern Singrays, Honeycomb Whiptail Rays, Nassau grouper, Giant grouper and a variety of colorful reef fish. See an adult Loggerhead Sea Turtle named Denver. And as guests leave they will experience the Newport Aquarium from a whole new perspective- looking down and into the tank from one of the country;s largest open-ir viewing areas.
Shark Central
Now you can enjoy the most unique experience of its kind in the region – Newport Aquarium's Shark Central exhibit. It's home to a field research facility and dozens of sharks you can actually touch. You'll learn the official "two-finger touch" technique and how to properly pet them. It's safe. It's thrilling. It's an experience visitors will never forget.
In the nearly 5,000-gallon touch tank, you can meet PJ a Port Jackson shark, whose nose resembles a pig's snout; the Lesser guitarfish, whose body has a flat arrowhead shape; and also the pajama catshark, a nocturnal shark that has been known to curl up in a ball on the ocean floor when it is disturbed. Try your best to pet Bruce the Spotted Gulley shark, a Puffadder shyshark that always spits at guests, Small-spotted cat sharks, and Leopard sharks who hang out in the deepest part of the tank.
Kroger Penguin Palooza
The popular cold penguin exhibit has re-opened as Penguin Palooza and it guarantees more penguins and more fun for everyone!
Diverse Species on Display
When it opened to the public earlier this year, the Penguin Palooza exhibit featured two new species: the playful Southern Rockhopper penguin and the flying Inca Terns. But Newport Aquarium didn't stop there. It just added 11 colorful Macaroni penguins. The new species is the fifth penguin species on display in the exhibit, making Newport Aquarium's gallery the second most diverse collection of cold-weather penguins in the country. The Macaroni penguins join the King, Gentoo, Chinstrap and Rockhopper penguins in Penguin Palooza. Only Moody Gardens Aquarium in Galveston, Texas can claim more penguin diversity in a cold exhibit with six species. Newport Aquarium ties Sea World San Diego with its five species.
New Habitat
The Penguin Palooza Exhibit is a cold-weather habitat, kept at 34-degrees and on the lighting cycle of the Antarctic Peninsula and the sub-Antarctic islands, where these animals are found naturally.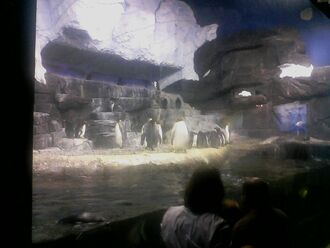 Aquarium biologists worked with rock-formation experts to redesign the interior of the exhibit to create a more dynamic, interesting habitat for the animals. The additional "steps" in the rock formation also provides more nesting opportunities for the birds and more paths for the penguins to explore in the new display.
Also new in the exhibit is a state-of-the-art LED lighting grid that greatly conserves energy. With this new lighting system, biologists designed a new, night-time lighting cycle modeled after Aurora australis – the southern hemisphere's version of northern lights - that will allow the penguins to be seen by guests even at night.
More To See and Do
The Aquarium also doubled the footprint of the guest side of the exhibit. Included in that new space will be the penguin interactive wall for kids, a map of penguin habitats world-wide, "fast fact" graphical displays as well as fun photo opportunities for families with three-dimensional penguin models.
Ad blocker interference detected!
Wikia is a free-to-use site that makes money from advertising. We have a modified experience for viewers using ad blockers

Wikia is not accessible if you've made further modifications. Remove the custom ad blocker rule(s) and the page will load as expected.