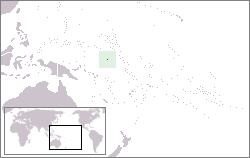 Nauru is a tiny island nation in the Pacific Ocean, north east of Papua New Guinea. Its capital is Yaren. The island has rich phosphate deposits, but has been mostly mined out. There is not much tourism in Nauru, the only attractions being tours of the old phosphate mines and scuba diving.
Hotels and lodging
Edit
The Menen Hotel offers the highest spec accommodation. Others include the Od-n Aiwo Hotel and Ianepe court. See  http://www.discovernauru.com/nauru/export/sites/NTO/Accommodation/index.html for details.
Attractions
Edit
Maps and transportation
Edit
Getting to Nauru
Edit
Exploring Nauru
Edit
Practical information and resources
Edit
Restaurants
Edit
Text with links to user-reviews on other pages
Edit
Nightlife
Edit
Photo gallery
Edit
Everything else
Edit
Got something to say that doesn't fit in the other sections of this page? Add it here!
External resources
Edit
Add links to other sites here