Republic of Namibia


Information

Capital

Language(s)

English 7% (official), Afrikaans is common language of most of the population and of about 60% of the white population, German 32%; indigenous languages: Oshivambo, Herero, Nama

Ethnic Groups

black 87.5%, white 6%, mixed 6.5%. Note: about 50% of the population belong to the Ovambo tribe and 9% to the Kavangos tribe; other ethnic groups are Herero 7%, Damara 7%, Nama 5%, Caprivian 4%, Bushmen 3%, Baster 2%, Tswana 0.5%

Government

Presidential system, Republic

Currency

Namibian dollar

National flag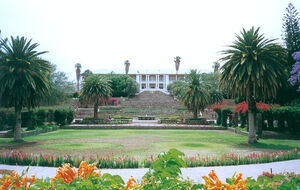 Namibia (official name: the Republic of Namibia), is a country located in southern Africa on the Atlantic coast. The countries bordering Namibia are Angola and Zambia on the north, Botswana on the east, and South Africa on the south.
Hotels and lodging
Edit
Attractions
Edit
Maps and transportation
Edit
Getting to Namibia
Edit
Exploring Namibia
Edit
Practical information and resources
Edit
Restaurants
Edit
Text with links to user-reviews on other pages
Edit
Nightlife
Edit
Photo gallery
Edit
Everything else
Edit
Got something to say that doesn't fit in the other sections of this page? Add it here!
External resources
Edit
Add links to other sites here
Ad blocker interference detected!
Wikia is a free-to-use site that makes money from advertising. We have a modified experience for viewers using ad blockers

Wikia is not accessible if you've made further modifications. Remove the custom ad blocker rule(s) and the page will load as expected.