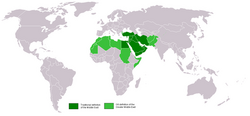 Hotels and lodging
Edit
Attractions
Edit
Maps and transportation
Edit
Getting to Middle East
Edit
car rental: book your car before you leave your home country on [1]. Europcar serves customers at 2852 locations in 170 countries, among which 639 airport locations for more conveniency: find the closest location to your travel destination on [2].
language: Take a crash course in Arabic language at [3]. Alif Arabic connects you with native Arabic speakers in Egypt trained at Al Azhar language institute so that you can learn Arabic online at home. In about 6 weeks you can establish enough proficiency to be able to communicate on a foundation level in most Arabic-speaking countries. If you want to travel to Turkey, you need to learn a little Turkish. If you want to go to Iran, you need to learn a little Persian (Farsi).
Exploring Middle East
Edit
Practical information and resources
Edit
Restaurants
Edit
Text with links to user-reviews on other pages
Edit
Nightlife
Edit
Photo gallery
Edit
Accommodation with     real Bedouin lifestyle,      for one or more                        nights.Campsite with big or        small tents in the mountains of (Little Petra and Wadi Araba desert in the vicinity of Petra /or Wadi Rum). Accommodation is in tents. Food is prepared on the fire, using the ancient Bedouin traditional ways, and enjoyed later together around the campfire. Dinner and breakfast are always included in the price      Transportation from the Bedouin village in Petra to the campsite in Little Petra, Wadi Araba and Wadi Rum is also included in the price While being with the guide, it is also possible to take part in organized desert tours all over Jordan (Wadi Araba, Wadi Ram) or some of the main touristic attractions  (Petra, Aqaba, etc.), in small groups, with transportation and food included Transportation :How to get to the Bedouin village in Petra from the bus station in Wadi Musa: take a taxi for about 2JD. When you reach the Bedouin village to (omsayhoun) near to the mosque, ask your way to Nawaf house (Bedouins are nice people that would be willing to help you); my house is next to the mosque. If you find any problem getting there, you can always call Nawaf at :00962795537109
 
                                              
From Petra, the Bedouin village is very near, and can be easily reached by walking When meeting at the Bedouin village in Petra, any excessive luggage can be left at my home in bedouin village. From there you will be taken by jeep or pickup-truck to the Bedouin camp

(this transportation is already included in the price). If needed and agreed beforehand, a pickup from Wadi Musa can be arranged
This is a truly magic Bedouin night in the desert with nawaf
Email: nawafpetra@Yahoo.com Mobile:00962 795 537109 Prices over night in Wadi Araba -95 JD over night in Wadi Rum - 115 JD over night in Little Petra in bedouin apartment- 85 JD http://sites.google.com/site/nawafdeserttours/

Transportation and food included
Everything else
Edit
Got something to say that doesn't fit in the other sections of this page? Add it here!
External resources
Edit
Add links to other sites here
Ad blocker interference detected!
Wikia is a free-to-use site that makes money from advertising. We have a modified experience for viewers using ad blockers

Wikia is not accessible if you've made further modifications. Remove the custom ad blocker rule(s) and the page will load as expected.