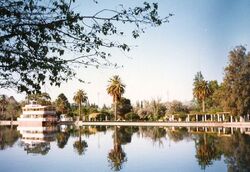 Mendoza is a city in the west of Argentina, and the capital of the Mendoza Province. As per the 2001 census [INDEC] it has about 111,000 inhabitants, plus 800,000 in its metropolitan area, making it the fourth-largest conurbation in Argentina. Mendoza is on a major road between Argentina and Chile. It is a frequent stopover for climbers heading up Aconcagua (the highest mountain in the Western Hemisphere) or for other mountaineering, hiking, horseback riding, rafting, and outdoor activities. In the winter, skiers come to the city for its easy access to the Andes. Edit this section or read more
Hotels and lodging
Edit
Attractions
Edit
Maps and transportation
Edit
Getting to Mendoza
Edit
Mendoza is 1,037 km from Buenos Aires (about 13 hours by bus) and 380 km from Santiago de Chile, Chile ( about 6 hours by bus). Mendoza also has an International Airport (MDZ). It takes less than 2 hours to fly from Buenos Aires and less than 1 hour from Santiago de Chile. People from neighboring countries is also used to travel by long distance in order to save some "pesos" but the trip is much more longer, as you can imagine. Usually via [long distance bus companies].
Exploring Mendoza
Edit
Practical information and resources
Edit
Restaurants
Edit
Text with links to user-reviews on other pages
Edit
Nightlife
Edit
Photo gallery
Edit
Everything else
Edit
Got something to say that doesn't fit in the other sections of this page? Add it here!
External resources
Edit
Add links to other sites here
Ad blocker interference detected!
Wikia is a free-to-use site that makes money from advertising. We have a modified experience for viewers using ad blockers

Wikia is not accessible if you've made further modifications. Remove the custom ad blocker rule(s) and the page will load as expected.