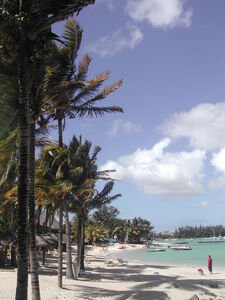 Mauritius, officially the Republic of Mauritius, is an island nation of the Indian Ocean. In addition to the island of Mauritius, the islands of St. Brandon, Rodrigues and the Agalega Islands are also part of the Republic of Mauritius. Mauritius is located 900 kilometers (560 miles) east of Madagascar and 3,943 kilometers (2,450 miles) southeast of India. Many people believe that these islands were known to ancient Phoenicians and the Arabs for last several centuries. However, the modern knowledge of Mauritius began with the landing of Portuguese sailors in 1505. The islands passed through several colonial powers and the last ones were the British. Upon gaining independence in 1968, the Republic of Mauritius was formed.
The island nation has some of the most enchanting and charming beaches and many other spots for the visitors and the tourist to be enjoyed and explored. Mark Twain has once remarked: "You gather the idea that Mauritius was made first and then heaven, and that heaven was copied after Mauritius". And, he was certainly correct, and you will find it applicable in the countryside and hinterland of Mauritius, as also at the relatively bigger places like the capital city, Port Louis in the northwest and other towns, Curepipe, Vacoas, Phoenix, Quatre Bornes, Rose-Hill and Beau-Bassin. There are many activities in which you may indulge and enjoy your stay in Mauritius.
Hotels and lodging
Edit
News Travel Mauritius Info : Find tourist info for visiting Mauritius. Mauritius travel guide including detailed information about everything you need to know about destination Mauritius.
Mauritius Hotels : Book the Best Mauritius Hotels. Book a hotel in Mauritius online. No reservation costs. Read hotel reviews from real guests.
Segatravel: Appartements and luxury villas with private pool through Mauritius with a breathtaking view on the horizon of the lagoon
Pingouinvillas . Stay at cheap rate with excellent service quality at one of the best beach in Mauritius
Oazure Villa Maurice: Rental of luxury villas and beachfront accommodation in Mauritius, including house keeping services and a variety of additional services and activities.
Location maison ile maurice : is a website which promotes a nice and cosy house based at Pereybere. The house is 300meters from the beach and 250meters from restaurants, bar and night clubs
Attractions
Edit
Maps and transportation
Edit
Getting to Mauritius
Edit
The best way to reach Mauritius is through air though you may also have an option to travel to Mauritius through sea routes. The capital city, Port Louis is well connected with many major cities of the world. Sir Seewoosagar Ramgoolam Air Terminal,Plaisance is 3 km from Mahebourg; 48 km from Port Louis; 80 km from Grand Baie, 55 km from Flic en Flac and 50 km from Belle Mare. The Airport has duty-free shops both on arrival and departure, banks, post offices, bars and snack parlours.
Entry requirements
Generally, a passport valid for at least six months from the date of entry.
The international tourists and visitors must also hold valid tickets and documents for their onward or return journey.
Adequate funds sufficient to meet reasonable expenses during the period of their stay.
Visas
Types of Visas: Tourist, Business and Social visas; visas are issued free of charge. Tourist Visas are valid for 6–12 months; Business Visas are valid for up to 3 months; and Social Visas are valid up to 2 months.
Exploring Mauritius
Edit
Getting around Mauritius
The best way to visit places around Mauritius is to rent a car from one of the many rental companies around the island.
Be careful to rent from an authorized agency (yellow plated car) as you're guaranteed to have the best service as well as being fully insured and trouble free!
Practical information and resources
Edit
Currency: Mauritian Rupee (MUR)
Languages: English is the official language. But, many other languages are spoken and understood by different sections of the society. Some of the major languages are French and French creole; Arabic; Portuguese; Indian languages such as Hindi, Punjabi, Tamil, Telugu, Marathi, Bhojpuri, Gujarati[ or dialects of Chinese like Cantonese, Hakka and Mandarin.
Restaurants
Edit
Le Four a Chaux- 230-480-1036- This restaurant is located on the East coast of the island. The restaurant is on the first floor and offers a spectacular view of the bay and the ocean. The name is a play on words with limestone since there is an old limestone oven type structure from the olden days across the street from the restaurant. They offer fresh seafood and the most amazing appetizers you have ever tasted in a unique cozy yet sophisticated setting.
Text with links to user-reviews on other pages
Edit
Nightlife
Edit
Photo gallery
Edit
Everything else
Edit
Got something to say that doesn't fit in the other sections of this page? Add it here!
External resources
Edit
Add links to other sites here