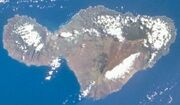 Maui is the second-largest of the Hawaiian Islands at 727 square miles (1883 km²). Native Hawaiian tradition gives the origin of the island's name in the legend of Hawaiʻiloa, the Polynesian navigator attributed with discovery of the Hawaiian Islands. The story relates how he named the island of Maui after his son who in turn was named for the demi-god Maui. According to legend, the demi-god Maui raised all the Hawaiian Islands from the sea. The Island of Maui is also called the "Valley Isle" for the large fertile isthmus between its two volcanoes. Edit this section or read more
Hotels and lodging
Edit
Hyatt Regancy Maui
Edit
Hyatt Regency Maui - This luxury hotel is on Kaanapali Beach, the main resort hotel-condo area of the west side of Maui. With 815 rooms, it is Maui's largest hotel.
The Maui Hyatt has beautiful grounds and lobbies, a large waterfall in one of the swimming pools, a children's water play area in another pool, water slide, rope bridge, several excellent restaurants, and many shops.
Napili Shores
Edit
Napili Shores, Outrigger - This condo style resort is perfect for families or for people looking for a relaxing and affordable place to stay in West Maui. One of the best beaches in Maui is a 30-second walk from your room, Napili Bay. This beach has great snorkeling (sea turtles!) as well as waves for body surfing and plenty of soft sand for sun bathing.
It is also worthy to note that the restaurant within the resort, Fish and Poi (now replaced by Cafe O'Lei Napili), is also a hidden find. The restaurant provides a beautiful Hawaiian/Pan-Asian atmosphere with excellent dishes. I had the seared ahi and it was one of the best I have ever had, and at a reasonable price.
All rooms have full kitchens and some rooms offer amenities such as a 42" LCD TV with surround sound and DVD player (room 230).
The Mauian on Napili Bay - 5441 Lower Honoapiilani Road, Napili, Maui, HI 96761. This beachfront hideaway is nestled at the center of one of Maui's most beautiful beaches — crescent-shaped Napili Bay beach. Renew, refresh and reconnect at the Mauian, where life is beautifully simple. Allow HideAways Hawaii to provide you with the exceptional lodging in Hawaii experience you need!

Kahana Sunset - 4909 L. Honoapiilani Hwy. Lahaina, Maui, Hawaii 96761. Toll Free: (800) 669-1488. This Kahana Beach vacation rentals sit amid a tropical garden setting, each with a lanai overlooking the crystal blue waters of Keoni Nu'i Bay. Choose from the following type of accommodations: Maui Beachfront Rentals, Oceanfront Kahana Vacation Rentals, Deluxe Kahana Rentals in Maui and Affordable Kahana Beach Resort.

Maui Accommodations Guide is the #1 resource for great places to stay on Maui and Molokai!
The Mauian offers Napili boutique hotel and studio accommodations directly on lovely, crescent-shaped Napili Beach.
Napili Kai Beach Resort - Relax amidst the natural beauty and warmth of Maui at this low-rise, Hawaiian-style resort situated on ten oceanfront acres of landscaped grounds.
Aston Maui Lu is situated in a historic 28-acre coconut grove, provides a quiet hideaway with easy access to all the beaches.
Attractions
Edit
Maui beaches - If you can't wait to feel soft, sun-warmed sand between your toes, then Maui - with 30 miles of beaches - is the place for you! The island's beaches range from small coves to vast stretches, with sand colored white, black or more exotic shades like red or green. [1]
Maps and transportation
Edit
Getting to Maui
Edit
Exploring Maui
Edit
Makai Massage & Bodywork, situated adjacent to The Mauian, is a friendly little day spa offering a wide variety of professional massage techniques, body treatments, facials, and other spa services. slued
Practical information and resources
Edit
Restaurants
Edit
Plantation House
Edit
Plantation House is a fine-dining restaurant in the clubhouse of the Plantation Golf Course in Kapalua. Open for breakfast, lunch and dinner, it has fresh fish and a wide variety of other dishes that are deliciously prepared as well as beautifully presented.
Nightlife
Edit
Photo gallery
Edit
Everything else
Edit
Got something to say that doesn't fit in the other sections of this page? Add it here!
External resources
Edit
Add links to other sites here
Maui Vacations - Reviews and photos of Maui hotels, condos, restaurants, sights, and activities