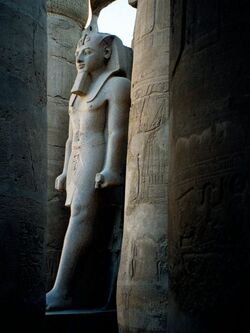 Luxor, a city located in the southern region of Upper Egypt has been described as a city which is a living museum, and it is one indeed! It reflects the grandeur of the Ancient Egypt. Luxor stands at the site where once stood the ancient Egyptian city of Thebes and the ruins of some ancient temple complexes are now within the city precincts of this city of around 200,000. Opposite the Nile River on the West Bank lie the monuments spread across the Valley of the Kings and Valley of the Queens. It is a very popular tourist destination of the world, and city attract thousands of tourists round the year. From Luxor you may also take cruises in the Nile River, or end your cruises here if you are coming from some other direction.
Hotels and lodging
Egypt has been a special destination for as long as records have been kept, but this escalated when archaeological fever was fed by the fantastic discovery of the Tomb of King Tutenkhamen in the Vally of the Kings in Luxor. The Winter Palace Hotel was the top hotel in Luxor at that time and still operates today, supplemented a modern wing.
Nile cruises became popular very early, with traditional dahbiyyas being superseded in popularity by the current huge Nile cruisers which have serious environmental and economic implications for the local community.
Self-catering accommodation has not traditionally been an option in Luxor, but in recent years, with a flurry of building of dedicated apartment blocks, self-catering apartments are widely available in locations ranging from the utilitarian and noisy downtown setting of Television Street to the peaceful more traditional west bank setting close to the Valley of the Kings.

HOTELS IN LUXOR

SELF-CATERING APARTMENTS IN LUXOR
Traditional Egypt, Luxor, Egypt: TraditionalEgypt.co.uk is a directory of private self-catering apartments or other holidayaccommodation in Luxor and other Egyptian destinations.
Attractions
Luxor, the living museum has many monuments and historical heritage of Ancient Egypt.
Historical monumnets
Temple of Karnak
Valley of the Kings
Luxor Temple
Temple of Hatshepsut at Deir el Bahari
Temple of Hatshepsut at Deir el Bahari
Temple of Amun
Colossi of Memnon
Temple of Medinat Habu
Valley of the Artisans (Deir el-Medina)
Tomb of Queen Nefertari
Souks (Market)
Ramesseum (Mortuary Temple of Ramses II)
Temple of Seti I
Tomb of King Tutankhamun (Tut)
Avenue of Sphinxes
Gurna Village
Valley of the Nobles
Tomb of Ramses III
Tomb of Merenptah
Corniche
Tomb of Sennedjem
Temple of Hathor,
Obelisk of Thutmoses I
Abu El-Hagag Mosque
Tomb of Amonherkhopeshef
Tomb of Amenophis II
Shopping
How to Shop: Haggling and baksheesh
Haggling and baksheesh (tipping) are a way of life in Luxor, which can make shopping here both rewarding and infuriating. Luxor has earned the title 'hassle capital of the world', but the Egyptians are generally good natured in their persistence. The haggling can be enjoyable (it certainly is to the locals) but the begging can become irritating. However, 'tipping' is not reserved for tourists - when you understand how 'baksheesh' fits into the culture it makes coping with it easier!
Souvenirs of Luxor
Souvenirs of Luxor include Papyrus, Egyptian cotton and alabaster - but there are other more unusual choices too!
Maps and transportation
Getting to Luxor
Flighrs

Luxor has an international airport named Luxor International Airport (IATA: LXR, ICAO: HELX) and it has flights from many major destinations of the world:
Air Arabia from Sharjah
Air Berlin
AMC Airlines
Austrian Airlines from Vienna
Egypt Air from Aswan, Barcelona, Brussels, Cairo, Frankfurt, Hurghada, Jeddah, Kuwait, London, Madrid, Milan, Paris, Rome, Sharm El Sheikh and Vienna
Jazeera Airways from Kuwait
Kuwait Airways from Kuwait
LTU International from Munich
Monarch Airlines [London Gatwick]
Qatar Airways from Doha
Trains
Buses
Local minibuses run through main streets in the city (except the Corniche - the tourist promenade along the Nile) for a flat rate of 25 Piastres. This will take you from centre of Luxor to the Temple of Karnak, some 5 km to the North. Don't be afraid to hail one, ask for directions and jump in. Most locals are friendly.
Boats
The municipal ferry costs foreigners £1Egyptian for a single Nile crossing. The departure is from the dock opposite Luxor Temple. Not as iconic as Hong Kong's Star Ferry or New York's Stanten Island Ferry, but enjoyable nevertheless for a view of Nile life at sunset.
Exploring Luxor
Practical information and resources
Currency: Egyptian pound (LE) (EGP)
Time zone: EET (UTC+2) [Summer (DST) - EEST (UTC+3]
Calling code: +20
Official language: Arabic and Masri
Restaurants
Text with links to user-reviews on other pages
Nightlife
Photo gallery
Everything else
Got something to say that doesn't fit in the other sections of this page? Add it here!
External resources
Add links to other sites here
Ad blocker interference detected!
Wikia is a free-to-use site that makes money from advertising. We have a modified experience for viewers using ad blockers

Wikia is not accessible if you've made further modifications. Remove the custom ad blocker rule(s) and the page will load as expected.