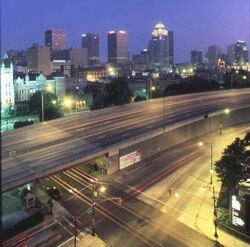 Louisville (usually pronounced ['luːǝvǝl]; see Pronunciation below) is Kentucky's largest city and one of the largest cities in the United States (see Official naming and population statistics below). The settlement that became the City of Louisville was founded in 1778 by George Rogers Clark and is named after King Louis XVI. Louisville is most famous as the home of "The Most Exciting Two Minutes in Sports": the Kentucky Derby, the most widely watched event in American horse racing. Edit this section or read more
Hotels and lodging
21c Museum Hotel, 700 W Main St. Louisville, KY 40202. For reservations, call 5022176300 or toll free 8772176400. 21c Museum is a Louisville Kentucky Hotel. A 90-room hotel dedicated to accessible luxuries, Southern-style hospitality and contemporary art from living artists, exhibited throughout its galleries and public space.
Attractions
Shopping
Maps and transportation
Getting to Louisville
Exploring Louisville
It's no secret that Kentucky is a mecca for horse racing fans, and no visit to Horse Country is complete without a stop at racing's most hallowed grounds, Churchill Downs. The Twin Spires of this Louisville landmark are home to racing's finest.
Bourbon Country - The Kentucky Bourbon Trail leads visitors through Kentucky's bucolic landscape to eight signature distilleries where tours and exhibits demonstrate how Kentucky whiskey is distilled, aged and bottled.
Practical information and resources
Restaurants
Text with links to user-reviews on other pages
Nightlife
Photo gallery
Everything else
Got something to say that doesn't fit in the other sections of this page? Add it here!
External resources
Add links to other sites here
Ad blocker interference detected!
Wikia is a free-to-use site that makes money from advertising. We have a modified experience for viewers using ad blockers

Wikia is not accessible if you've made further modifications. Remove the custom ad blocker rule(s) and the page will load as expected.