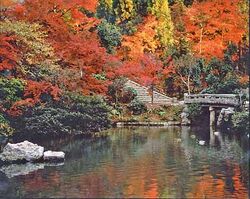 Kyoto is the historical capital city of Japan. In 794 the emperor decided Kyoto as the capital in Japan, it had become the center of Japanese politics and culture, which was called Haankyo at that time, and it keeping is politics, and be a center of culture over 1000 years.
Hotels and lodging
Edit
Kyoto has many places of accommodation. But for the foreign tourist, staying at western-type hotels for long is expensive. The information office is located in Kyoto station. If you want to get some information, you shoud check these sites.
Guest House
ACORN HOUSE a small,cozy guest house for Women.
Guest House Link-This link is useful for young travelers.

Luxury Hotel
Hyatt Regency hotel Kyoto-opened latest in Higashiyama area. Good location for traveling.
Westin Miyako hotel Kyoto -recently renovated. Nice rooms and good location, beautiful Japanese Garden.
Tokyu hotel Kyoto-Located in downtown Kyoto but very close to Kyoto station.
To book:http://www.asiarooms.com/japan/kyoto.html
Kinoe-a traditional Japanese-style hotel in Kyoto.
Attractions
Edit
Maps and transportation
Edit
Getting to Kyoto
Edit
Exploring Kyoto
Edit
As for Kyoto, the roads are very narrow because it is an old town. Therefore, it is best to rely on public transportation to get around. Kyoto Station provides easy access to bus, subway, and taxi.
The Kyoto city government runs two lines:
Karasuma-line connects directly to Kyoto station. This line runs north and south through the city. Take this line to go to Nara city, the oldest capital in Japan. Trains run every 3–6 minutes.
Higashiyama-line runs east and west. You can change to this line at Karasuma-Oike station. This line connects to east and south Kyoto.
There are only a few sightseeing spots that can reached by subway directly from Kyoto Station. However, it doesn't take long to get those spots and is definitely faster than the bus. Kyoto Subway Map
To catch a bus to most sightseeing areas, go to the terminal in front of Kyoto station. It is a flat rate up to famous tourist spots. Major bus connection point is Kyoto station or Kita-Ohji station Sanjo. The one-day pass is the best deal.
Practical information and resources
Edit
Kyoto information from japan-guide.com
Restaurants
Edit
Text with links to user-reviews on other pages
Edit
Nightlife
Edit
Photo gallery
Edit
Everything else
Edit
Got something to say that doesn't fit in the other sections of this page? Add it here!
External resources
Edit
Add links to other sites here