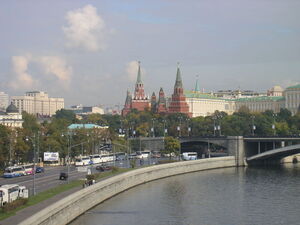 Kremlin in Russian language means a fort, a citadel, a castle or any fortified structure, and several Russian locations have their own Kremlins. However, for most of the people of the world Kremlin brings forth a vision of the place from where generations of the Czars ruled their vast empire, and that place is the Moscow Kremlin, located in the heart of Moscow. It is a vast complex of structures unmatched in size, and comparable only to the Forbidden City in China. The Kremlin has 17 towers, the Savior Tower rising to a height of 70-meters (230-foot) is the highest among them all. The Kremlin has four palaces, four cathedrals, and several offices, and all are enclosed within the Kremlin Wall.
Ad blocker interference detected!
Wikia is a free-to-use site that makes money from advertising. We have a modified experience for viewers using ad blockers

Wikia is not accessible if you've made further modifications. Remove the custom ad blocker rule(s) and the page will load as expected.