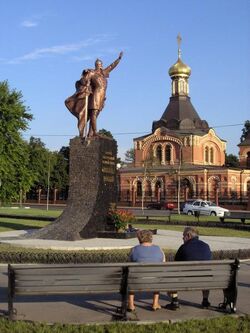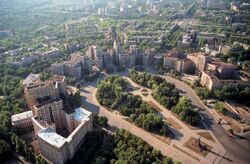 Kharkov with a population of around 1.5 million (2014) is the capital city of Kharkiv Oblast (province) of Ukraine. It is the second largest city of Ukraine, and a major cultural, educational, and industrial center of Ukraine. The city is famous for a large number of manufacturing units, large industrial complexes, including the giant ones like the Morozov Design Bureau and the Malyshev Tank Factory, the later one being a leader in the production of tanks since 1930s. Modern industrial complexes include facilities dedicated to aerospace, nuclear electronics), and the Turboatom turbines producer. The city has an underground rapid-transit system with a track of 35 km, and 28 stations. The Freedom Square (Ploshcha Svobody) is the third largest square in the world, and the fifth largest one in the world.
Hotels and lodging
Some hotels in Kharkov:
Cosmopolit Hotel is located in the city center and attracts both business and leisure tourists. It has emerged as a renowned heritage hotel. Its address: Ak Proskuri Street, 1 Kharkov 61070, (Ukraine)
Chichikov Hotel is also located in the city center with a restaurant serving cuisines from many European countries. Its address is: 6 - 8 Gogola Street, Kharkov, 17270 (Ukraine).
Best Eastern Kharkiv Hotel is located in a 16-storeyed and has good restaurants serving Ukrainian as well as European cuisines.
Attractions
As a matter of fact, Kharkov is not a preferred tourist destination like Venice or Rome, or even St. Petersburg (Russia. Yet, it has an old-time charm in a new setting. It is the largest business and industrial city of Ukraine and attracts many business visitors round the year. They generally like the city, its greenery and gardens, beautiful parks, and expansive squares. The city offers some special sight seeing opportunities, and some of the major attractions of the city are:
Memorial Complex
Shevchenko Monument
The Uspensky Cathedral
Pokrovsky Cathedral
Aerial Cableway
Freedom (Svobody) Square
T. Shevchenko Gardens
The Kharkiv Zoo
Shopping
Once upon a time, the city was just a fort and was positioned at an advantageous location — on the cross roads of trade routes connceting Moscow and St. Petersburg, and other trade routes connecting Western European countries, the countries of the Near East, and the Balkan countries. Despite the 500 years having rolled by and the city having seen many ups and downs, the old tradition perhaps continues to linger.
The city is a good place to search and buy exotic traditional handicrafts, participate in the multilingual seasonal fairs, and carry home some novel souvenirs. There are many modern shopping malls and plazas too. For instance, a place called Barbashoya is perhaps the "biggest out door marked in Europa and maybe in the world". It is really massive, and you will find all goodies here being sold by people from many nationalities. You may buy clothes, foods, ornaments, fancy items — you name it, and you will get it in Barbashoya. However, be wary to buy anything costly — spurious good abound here!
Maps and transportation
Getting to Kharkov
Exploring Kharkov
Practical information and resources
Official languages

Ukrainian, though people also understand Russian

Currency

Hryvnia (UAH)

Time zone

EET (UTC+2) [Summer (DST) EEST (UTC+3)]

Postal code

61001—61499

Elevation

152 m (498.7 ft)

General climate
Month
Jan
Feb
Mar
Apr
May
Jun
Jul
Aug
Sep
Oct
Nov
Dec
Year
Ave. high °C (°F)
-5 (23)
-2 (27)
2 (37)
13 (56)
21 (71)
25 (77)
27 (81)
26 (79)
20 (68)
12 (55)
3 (39)
-1 (30)
12 (54)
Ave. low °C (°F)
-9 (15)
-8 (17
-3 (26)
4 (40)
10 (50)
13 (56)
15 (59)
14 (58)
9 (49)
3 (39)
0 (31)
-3 (25)
3 (39)
Source: Weatherbase[1]
Restaurants
Text with links to user-reviews on other pages
Nightlife
Kharkov has an active nightlife, and varied too — catering to all tastes, and fulfilling for the enterprising. You have a choice of bars, clubs, floor shows, and cultural extravaganza.
Club Meridean, a nightclub with plenty of dance and music.
Bolero club, located a little away from the city center (driving distance of about twenty minutes) is famed for its Western and Russian music, and dancing partners.
Split casino is a casino and has a good bar too.
Photo gallery
Everything else
Got something to say that doesn't fit in the other sections of this page? Add it here!
External resources
Add links to other sites here
References
↑

Script error
Ad blocker interference detected!
Wikia is a free-to-use site that makes money from advertising. We have a modified experience for viewers using ad blockers

Wikia is not accessible if you've made further modifications. Remove the custom ad blocker rule(s) and the page will load as expected.