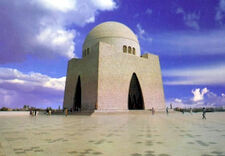 Karachi, once the capital of Pakistan before the capital was shifted to Islamabad, is located on the coast of the Arabian Sea. Known by the euphemism as the city of City of Quaid, after Muhammad Ali Jinnah, the founder of Pakistan, Karachi is the financial nerve center of Pakistan and its largest seaport. It is a city of around 11.5 million with people from many ethnic and cultural background.
Karachi has an ancient history of more than two thousand years, and it was known to the Greeks by the name of Krokola, believed to be a place where Alexander the Great camped, after his campaign in the regions of Indus Valley, to commission a fleet for his assault on Babylonia. For centuries, the city has been serving as a seaport though of modest size. The legend states that Karachi begun as a fishing village and continued to grow on account of its locational advantage. It gained importance in the modern age during the 19th century.
Hotels and lodging
Edit
Some of the luxury hotels of Karachi are:
Marriott Karachi
Sheraton Hotel and Towers Karachi
Beach Luxury Hotel
Embassy Inn
Regent Plaza Hotel
Pearl Continental Hotel Karachi
Attractions
Edit
Karachi is an old city with several major attractions for the tourists, and its location on the coast of the Arabian Sea has given it a locational advantage: it has perhaps the highest number of beaches for any other cities in this part of the globe. For more than a century it had remained a very active and important seaport of the British Raj and there are many historical buildings in the city.
Mazar-e-Quaid is a mausoleum of the founder of Pakistan, Muhammad Ali Jinnah
National Arts Council locally known as Koocha-e-Saqafat
Mohatta Palace
Beaches & Waterfront

Clifton Sea View seafront
Hawkesbay Beach is a breeding ground for endangered turtles
World Wildlife Centre

Museums

National Museum of Pakistan
Aga Khan Museum

Historical Buildings

Karachi Port Trust Building (1915)
The Sindh High Court (1929)
Hindu Gymkhana (1925)
Cliftion Promenade (1920)
New Sind Assembly Building (1942)
Sind Madressah-Tul-Islam (1885)
Ghulam Husain Khalikdinahall (1906)
Flag Staff House (1865)
Balauch Graveyard (15th century)
Max Denso Hall (1886)

Islands: Karachi has several islands in its close proximity:

Clifton Oyster Rocks
Manora Island
Bundle Island
Bath island
Bhit Shah
Shah Banda
Churna Island (Pakistan's only coral reefs)

Amusement Parks: Karachi also has several Amusement Parks
Around Karachi
Edit
Karachi is located on the Arabian Sea coast in the Sindh Province of Pakistan. Sindh has a rich and glorious historical heritage extending back in the time frame of several thousand years. In case, you have time, it is a good idea to take short trips to some of the most unique places at a short (a few relatively long) distance from Karachi:
Chaukundi tombs (of 16th-18th century) built in peculiar shapes of slabs are located around 17 km from Karachi. The sandstone slabs have beautiful carvings of males and females.
Banbhore,about 64 km from, is a place of archaeological and historical significance. Many scholars identify the place with Daibul, a port city where Mohammad Bin Qasim landed in 712 AD and brought Islam to this part of the world. There is also a Museum at Banbhore with a variety of collections of pottery, coins, beads and many other rare finds.
Haleji Lake, 70 km from Karachi, is Asia's largest bird reserve and during the winter months of October–December, the bird sanctuary becomes home to thousands of migratory birds including Siberian cranes.
Thatta is an ancient place and had served as the capital of Sindh region for 400 years. There are more than a million graves within an area of around 10 km2. The graves are remarkable for their intricate design and carvings.
Beyond Karachi
Edit
If you want to see more of the spectacle of Sindh of an age gone by and you have the time, you should surely see the archaeological site of Mohenjo-daro, one of the World Heritage Sites in Pakistan. Mohenjo-daro is around 563 km from Karachi. You may take the Super Highway via Dadu to reach the ruins of Mohenjo-daro, a town which was part of the Indus Valley Civilization which thrived around 2600 BC until 1700 BC. The place is a fine example of town planning rarely found in the other comparable ruins of that time in other parts of the world.
Shopping should offer a really interesting pastime to the visitors, particularly in the local bazaars. The modern malls are also many in Karachi, but buying in the local bazaars has its own charm — you know the people closely and see them in action. This itself shall be a novel experience if you are not accustomed to move in the crowds while buying.
While roaming around the crowded bazaar of Karachi, you may look around to spot buys like brasswares; silverwares; special types of mirrors crafted by local artisans of Sindh; articles of carved wood and camel skin; handloom-made tapestries and printed fabrics. As is common in this part of the world, you are expected to bargain hard and more you bargain more discounts you may gain!
Maps and transportation
Edit
Getting to Karachi
Edit
Exploring Karachi
Edit
Practical information and resources
Edit
Currency: Rupee (PKR)
Major Language: Urdu, though many other languages like Sindhi and Punjabi are also spoken and understood. You may manage with Simple English.
Time zone: PST (UTC+5:00)
Calling code: +92
Temperature Data
| | | | | | | | | | | | | |
| --- | --- | --- | --- | --- | --- | --- | --- | --- | --- | --- | --- | --- |
| Karachi temperatures | Jan | Feb | Mar | Apr | May | Jun | Jul | Aug | Sep | Oct | Nov | Dec |
| Avg. high (in °C) | 25 | 26 | 29 | 32 | 34 | 34 | 33 | 31 | 31 | 33 | 31 | 27 |
| Avg. low (in °C) | 13 | 14 | 19 | 23 | 26 | 28 | 27 | 26 | 25 | 22 | 18 | 14 |
Restaurants
Edit
Text with links to user-reviews on other pages
Edit
Nightlife
Edit
Photo gallery
Edit