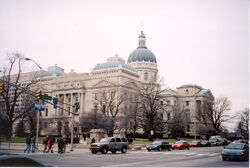 Indianapolis is the capital of the U.S. state of Indiana, and the county seat of Marion County. According to the 2000 Census, its population is 791,926, making it Indiana's most populous city and the 12th largest city in the U.S. The U.S. Census July 1, 2004 estimate for the Consolidated City of Indianapolis is 794,160 and a metropolitan area population of 1,595,377. Edit this section or read more
Hotels and lodging
Attractions
The Indianapolis Children's Museum.
Shopping
Maps and transportation
Getting to Indianapolis
The Greyhound station is downtown.  It is several blocks from hotels, dining, and shopping.  The Amtrak station is right next to the greyhound station. Interstate 70 and Interstate 65.
Exploring Indianapolis
Practical information and resources
Restaurants
Saint Elmo's Steak House is located 127 South Illinois Street.  It is an excellent restaurant.  While it is expensive, you will not leave hungry.  The shrimp cocktail packs quite a punch as it is made with fresh horseradish.
Nightlife
Whistle Stop is a bar that is across the street from the bus station (and popular with bus passengers who have a layover).  While it does not have craft beer, the prices are fairly reasonable. Triton Brewing Company produces beer that is worth trying.
Photo gallery
Everything else
Got something to say that doesn't fit in the other sections of this page? Add it here!
External resources
Add links to other sites here
Ad blocker interference detected!
Wikia is a free-to-use site that makes money from advertising. We have a modified experience for viewers using ad blockers

Wikia is not accessible if you've made further modifications. Remove the custom ad blocker rule(s) and the page will load as expected.