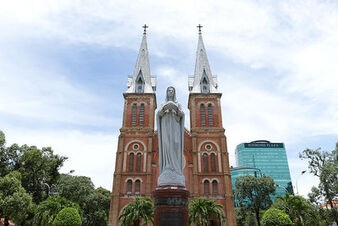 Ho Chi Minh is a city in southern Vietnam.
Tips for: backpackers • business travelers • luxury/exotic travel • hitchhikers • families • seniors • LBG travelers • pet owners
Hotels and lodging
Edit
Tourist Attractions and Sights in Ho Chi Minh
Edit
Fasten your seat belt as Ho Chi Minh is a metropolis on the move and we are not jusy talking about the motorbikes that throng the streets of this bustling city. Saigon, as it's known to all buy city officials, is Vietnam as its most dizzyling, a high-octane city of commerce and culture that has driven the whole Vietnam forward with its limitless energy. It is a living organism that breathes life and vitality into all who settle here in Ho Chi Minh, and visitors cannot help but be hauled along for the ride. Ho Chi Minh's Tourist Sites are wide enough to caters any taste, HCMC has a population over 7 Million and best time to Visit this crazy city is from November to February. First time visitors often focus exclusively on District 1, where many of the sights are found, Those with more than a day in HCM can take in central Ho Chi Minh.
Cu chi tunnels and mekong delta are two good options for a day trips from Ho Chi Minh
Shopping in Ho chi minh
Edit
Shopping Tour in a Megalopolis city like Ho Chi Minh is a great fun, We take you to the right places in Ho Chi Minh to buy your Shopping, we pay the good attention to your Shopping time and ask you what is your favourite on Shopping, The Shopping Tour in Ho Chi Minh that's not just in the range of goods on offer, but in the countless ways you can find and buy them. Whether you're a 'mallster' or a market hound, there's plenty to choose from, let it to us!
Maps and transportation
Edit
Getting to Ho Chi Minh and around
Edit
Car & motorbike
Edit
Travel agencies, hotels and cafes are all in the car-rental business. Most vehicles are relatively recent Japanese- or Korean-made machines – everything from saloons to minibuses. Not long ago, classic American cars (complete with tail-fins and impressive chrome fenders) were popular as 'wedding taxis', but these have all been hoovered up by collectors and are rarely seen.
If you're brave you can rent a motorbike and really earn your 'I Survived Saigon' T-shirt. Many say this is the fastest and easiest way to get around the city – or to the hospital, if you don't know what you're doing. Even if you're an experienced biker, make sure you've spent some time observing traffic patterns before venturing forth.
Motorbike rentals are ubiquitous in places where tourists tend to congregate – the Pham Ngu Lao area is as good as any. Ask at the cafes. A 100cc motorbike can be rented for US$7 to US$10 per day, including some sort of helmet, and your passport may be kept as collateral. Before renting one make sure it's in good working order.
Vietnamese Private Tours ; http://www.vietnameseprivatetours.com  is a reliable source day tours and scooter tour by night in HCM and around.
Practical information and resources
Edit
Restaurants
Edit
Text with links to user-reviews on other pages
Edit
Nightlife
Edit
Photo gallery
Edit
Everything else
Edit
Got something to say that doesn't fit in the other sections of this page? Add it here!
External resources
Edit
Add links to other sites here