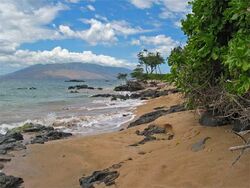 Hawaii is the most recent of the 50 US states and is the only U.S. state made up entirely of islands. It is the northernmost island group in Polynesia, occupying most of an archipelago in the central Pacific Ocean, southwest of the contintental United States. Hawaii's diverse natural scenery, warm tropical climate, abundance of public beaches and oceanic surrounding, and active volvanoes make it a popular destination for tourists, surfers, biologists, and volcanologists alike. Due to its mid-Pacific location, Hawaii has many North American and Asian influences along with its own vibrant native culture. The capitial is Honolulu, located on the island of Oahu.
Hotels and lodging
Edit
ClearStay.com - Hawaii Find hundreds of vacation rentals on Hawaii's beautiful beaches. With locations on The Big Island and several others, you're sure to find the right place to book your Hawaiian holiday! Visit our Last Minute Deals page for up to 25% off of select vacation homes.
The Kahala Hotel & Resort [1]
Nestled on an exclusive ivory-sand beach, this legendary resort is just ten minutes from the world class shopping and entertainment of Waikiki. Home to six Atlantic bottlenose dolphins and the award-winning Spa Suites, this luxury resort is a favorite with presidents, international royalty and celebrities.
Chalet Kilauea Boutique Inn and Lodge [2]- A Volcano Hawaii Hotel located at 19-4178 Wright Road, Volcano Village, Hawaii 96785-0998.
Ilima Hotel • [3] 445 Nohonani Street, Honolulu, Hawaii 96815-2695. An affordable Waikiki Hotel
Hanalei Colony Resort - 5-7130 Kuhio Highway Haena, HI 96714. Toll Free: 800.628.3004 Local: 808.826.6235. Nestled on a secluded stretch of golden beach, set against the magnificent mountains of Kauai's north shore, this intimate Kauai resort offers much more than just a place to stay.
HideAways Hawai'i condo and hotel vacation rentals are quite different from each other, and offer you a wide variety Big Island accommodations. Choose from the following accommodations:
Attractions
Edit
Kilauea Lighthouse - The historic light station consists of a concrete lighthouse, three field stone keepers' quarters, a fuel oil shed, cisterns, and a supply landing platform. It is one of the nations most intact historic light stations.
Golf Kauai! Kauai golf means golf surrounded by the lush, natural beauty of Kauai and it's Hawaiian culture on the newly renovated golf course at the Kiahuna Golf Club in beautiful, sunny Poipu Beach, Kauai!
Kauai Golf at Poipu! Kauai golf courses are as diverse as the island itself. From the sun-drenched ocean side links in Poipu, to spectacular waterfalls of the North Shore, to the dramatic mountain scenery of the East Side, Kauai golf can add a new dimension to the Hawaii golf vacation you've always dreamed of.
The Poipu Bay golf course is backed by lush emerald mountains and sculpted from a rolling plateau eight stories above the expansive blue waters of the Pacific Ocean. Even the most focused golfer will be challenged by breathtaking views from each and every hole.
Princeville Prince Course - The Prince Course the Number One golf course in the State of Hawaii. It is also included in their prestigious list of "America's 100 Greatest Golf Courses." The Prince is one of Hawaii's most challenging golf courses, with a USGA course rating of 75.3 and a 145 slope.
Akaka Falls State Park [4] - `Akaka Falls State Park is a state park on the Big Island. It is located 11 miles north from Hilo (at the end of Highway 220) on the Island of Hawaii. It includes `Akaka Falls, a 442 ft. tall waterfall.
Akatsuka Orchid Gardens has a variety of tropical plants and orchids. The gardens also feature a great gift shop!
'Iolani Palace [5] - The only official state residence of royalty in the United States. A Hawaiian national treasure and the only official state residence of royalty in the United States. http://www.iolanipalace.org
Queen Emma Summer Palace [6] - Where Hawai'i's royalty went for relaxation. It was used by Queen Emma and her family as a retreat from the rigors of court life in hot and dusty Honolulu of the mid-1800s. http://www.daughtersofhawaii.org
Waikiki Aquarium [7] - See the Humuhumunukunukuapua'a . The Waikiki Aquarium has been designated as the Coastal Ecosystem Learning Center for the Pacific Island Region of the Coastal America Partnership.http://www.waquarium.org
Native Books [8] - Books and handcrafts made in Hawai'i by local artisans. Native Books is a community resource-focused on distributing the best na mea Hawai'i books, music, and DVDs on Hawai'i and the Pacific was as a priority presenting culturally sensitive and accurate information on Hawaiian history, language, hula, navigation, mo'olelo and other areas of Island Interest. http://www.nativebookshawaii.com
Heavenly pampering awaits you just steps away at Hanalei Day Spa. This charming Kauai resort and spa, located on-site at Hanalei Colony Resort, offers a variety of therapeutic massages, spa services, and customized yoga and Ayurvedic retreats. 5-7130 Kuhio Highway Haena, HI 96714.
Maps and transportation
Edit
Getting to Hawaii
Edit
Exploring Hawaii
Edit
Practical information and resources
Edit
GoHawaii.com - Hawaii's Official Tourism Site
HVCB.com - Hawaii Visitor's & Convention Bureau
Hawaii Vacations - ReserveHawaii.com
Oahu Vacation Planning - Visit Oahu
Restaurants
Edit
Text with links to user-reviews on other pages
Edit
Nightlife
Edit
Photo gallery
Edit
Everything else
Edit
Got something to say that doesn't fit in the other sections of this page? Add it here!
External resources
Edit
Add links to other sites here