Hampi
Talk

0
2,501pages on
this wiki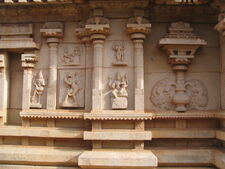 Once upon a time, during the period of the Vijayanagara Empire (mid-15th to early 16th century), which ruled most of South India, Hampi (Bellary district, Karnataka state, India) was the nerve center of that empire. Presently, it is just a small village, and justifies the meaning of its name, Hampi. Hampi means the City of Ruins. But, these ruins are heritage of the human civilization: they have been listed by the UNESCO as one of World Heritage Sites. The place perhaps pre-dated the founding of the Vijayanagara Empire. It was also a religious center, and the Virupaksh Temple is a famous Hindu temple. The River Tungabhadra, flowing by the side of Hampi gives the place a natural and picturesque setting. Hampi is about 343 km from Bangalore, the capital of the Indian state of Karnataka; 254 km from Bijapur; and 74 km from Bellary.
At Hampi, you will have a sad feeling to find so many ruins, which once were perhaps part of the most splendid cities of that time in this part of the globe. The ruins testify to the existence of majestic and magnificent structures, most bewildering and enchanting range of artistic skills and intricacies of the craftsmanship, which each and every stone conveys brilliantly. Naturally, many believe that the place is one among the 100-must-visit places of the world.
There are several sites scattered in and around Hampi covering an area of about 26 sq km. Read about them in detail at the Hampi Website
This article, "Hampi", is a stub. Please consider adding content to this page to make it more complete.
See more information about how to get started at the Central Wikia tutorial.