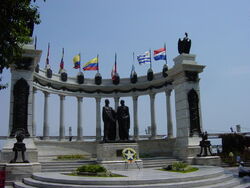 Santiago de Guayaquil, or just Guayaquil, is the largest and the most populous city in Ecuador, as well as that nation's main sea port. Guayaquil is on the west margin of the Guayas River, which flows into the Gulf of Guayaquil in the Pacific Ocean. Guayaquil is at 2.21°S 79.90°W, about 250 km south-southwest of the capital of Ecuador, Quito. According to the most recent census (2001), its population was 2,285,379. Edit this section or read more
Hotels and lodging
Edit
Attractions
Edit
Maps and transportation
Edit
Getting to Guayaquil
Edit
Exploring Guayaquil
Edit
Practical information and resources
Edit
Restaurants
Edit
Text with links to user-reviews on other pages
Edit
Nightlife
Edit
Of course, Guayaquil presents a tourist many things to watch and enjoy during day: historic structures and neighborhood, well laid out and spacious parks, museums and many other attractions. But, if you shall probe a little deep, you may discover that Guayaquil has more to offer during the night as compared to the day. To enjoy the gaiety of nightlife in Guayaquil one should be a little careful. Once you are determined to enjoy the nightlife of Guayaquil, you would find that it is really "notorious for providing its visitors with more action after dark than during days". With the darkness, the place registers a change and its ambience becomes one of festivity and gaiety, coupled with an exotic and typical tropical attraction. There are discos and pubs competing with each other to offer the visitors so many things from dusk to dawn.
Photo gallery
Edit
Everything else
Edit
Got something to say that doesn't fit in the other sections of this page? Add it here!
External resources
Edit
Add links to other sites here
Ad blocker interference detected!
Wikia is a free-to-use site that makes money from advertising. We have a modified experience for viewers using ad blockers

Wikia is not accessible if you've made further modifications. Remove the custom ad blocker rule(s) and the page will load as expected.