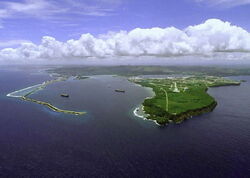 Hotels and lodging
Edit
The main tourist area is around Tumon Bay, which has a number of high-rise hotels and resorts [1] similar to Waikiki Beach with an even larger percentage of Japanese tourists. Cheaper accommodations exist near the airport, especially around the village of Harmon. Be aware that Harmon hotels tend to be on the seedier side since Harmon is a mixed industrial/residential neighborhood. Many of the flights scheduled through Guam to other locations (especially in Asia) often require an overnight layover, so plan ahead. Some hotels offer airport pickup, as taxis can be quite expensive.
==Hotels & Resorts==
PIC GUAM 210 Pale San Vitores Road., P.O.Box 9370 Tamuning Guam 96931. Tel: (1-670) 2347976 Email:mailto:picmail@picguam.com Web Site: [2]
Located in the Micronesia Islands, PIC Guam Hotel overlooks stunning Guam Beaches. PIC offers delightful accommodation in Micronesia Islands, award-winning dinner and funniest entertainment programs.
Attractions
Edit
Maps and transportation
Edit
Getting to Guam
Edit
Exploring Guam
Edit
Practical information and resources
Edit
Restaurants
Edit
Text with links to user-reviews on other pages
Edit
Nightlife
Edit
Photo gallery
Edit
Everything else
Edit
Got something to say that doesn't fit in the other sections of this page? Add it here!
External resources
Edit
Add links to other sites here
Ad blocker interference detected!
Wikia is a free-to-use site that makes money from advertising. We have a modified experience for viewers using ad blockers

Wikia is not accessible if you've made further modifications. Remove the custom ad blocker rule(s) and the page will load as expected.