Greece


Information

Capital

Major Cities

Language(s)

Greek 99% (official), English, French

Ethnic Groups

Greek 98%, other 2%; note: the Greek government states there are no ethnic divisions in Greece

Government

Constitutional republic, Parliamentary system

Currency

Euro (formerly drachma)

National flag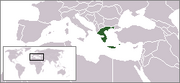 Hotels and lodging
Edit
Epirus Accomodation
Edit
Syngrou Avenue 362, Kallithea, 176 74 Athinai. Tel: +30 211 2116211

The easyCruise.com official website. Our Greece & Greek Island cruise holidays offer the ideal way to enjoy these enchanting locations. Our Greek cruises arrive at a new destination everyday at noon allowing plenty of time to explore the Greece. Click the number link here [1] for more details

Attractions
Edit
Maps and transportation
Edit
Getting to Greece
Edit
Exploring Greece
Edit
Car Rental in Greece
Edit
Opposite Fountoulaki, Karteros 70008, Crete, Greece Tel:0030 2810 380294
Nidas 1, heraklion Crete 71307 Greece Tel: 0030 694-8628997
1 Gortynis Str, Chersonissos 70014, Greece Tel: 0030 2810-240120
Airport Chania 1, Chania 73100, Greece Tel: 0030 694 862 8996 ‎
Practical information and resources
Edit
Restaurants
Edit
Το Bliss αποτελεί το νέο hot spot της νυχτερινής διασκέδασης και της γαστριμαργικής απόλαυσης στην Απολλωνία της Σίφνου. Ένας χώρος με υψηλή αισθητική και λιτό, απέριττο ύφος σε απόλυτη αρμονία με το φυσικό περιβάλλον, στο οποίο κυριαρχούν το λευκό της γραφικής Απολλωνίας, το άπλετο φως και το μοναδικό χρώμα της ανατολής και δύσης του ηλίου και το γαλάζιο του πελάγους.
Bliss: Μία τοποθεσία, τέσσερις χώροι, αμέτρητες δυνατότητες...
Στην πιο μαγευτική τοποθεσία της Απολλωνίας, σε μία έκταση 4 στρεμμάτων ξεκινάει η περιπλάνησή σας στους χώρους του Bliss.
Θέλω λαχταριστή κρέπα – αλμυρή και γλυκιά, φρέσκο σάντουιτς με εκλεκτά υλικά, original πίτσα; Πάω στο Bliss Street Food όλες τις ώρες της ημέρας, κάθε ημέρα. Θέλω ψαγμένο καφέ, ακαταμάχητα γλυκά, cocktails και άλλα cool drinks οποιαδήποτε στιγμή της ημέρας... και της νύχτας, καθημερινά; Πάω στο Bliss Café – Bar. Θέλω να τα συνδυάσω και με βουτιές στην πισίνα; Ξαναπάω στο Bliss Café – Bar by the pool από 10:00 μέχρι 19:00. Θέλω gourmet γεύσεις τοπικής, Μεσογειακής και διεθνούς κουζίνας και ενημερωμένο wine list σε ένα μαγευτικό περιβάλλον; Πάω στο Bliss Restaurant από 20:00 μέχρι 02:00, καθημερινά. Θέλω να διασκεδάσω παρέα με την καλύτερη μουσική, τον καλύτερο κόσμο, στο πιο trendy club του νησιού και μέχρι το πρωί; Πάω στο Bliss Club από 23:00.
Text with links to user-reviews on other pages
Edit
Nightlife
Edit
Photo gallery
Edit
Everything else
Edit
Got something to say that doesn't fit in the other sections of this page? Add it here!
External resources
Edit
Add links to other sites here
Ad blocker interference detected!
Wikia is a free-to-use site that makes money from advertising. We have a modified experience for viewers using ad blockers

Wikia is not accessible if you've made further modifications. Remove the custom ad blocker rule(s) and the page will load as expected.