Although Goa is India's smallest state area-wise and the fourth smallest population-wise, it is a treasure trove for any tourist wishing to relish the nature to its full and amazingly enchanting splendour and enjoy the social and cultural fiestas and festivities during his stay here. This is an ancient land of the Konakani people and finds references in many ancient Indian texts: the region has been described by a number of names like Goparashtra, Govarashtra, Gopakapuri, and Gapakapattana. Texts of the later period describe the places as Gomanchala, Gove, Govapuri, Gopakpattan, and Gomant. With the colonization of the area by the Portuguese in 1510, it became known as Goa, and it continued to be so known even after it became a part of the Republic of India in 1961. The city of Panaji is the capital of the state, while Vasco (Vasco-da-Gama) is the largest city and Margaon is historically very significant city. Other important towns are Mapusa and Ponda.
Beaches of Goa are enchantingly serene and beautiful, and at the same time full of festivities. It is no wonder that they attract domestic and international tourists, particularly from Europe and Americas.
Apart from the beaches with abundant sunshine and an environment of festivities almost all the year round, except the rainy monsoon months of July–September, Goa has excellent biodiversity and a rich variety of flora and fauna. This diversity arises as Goa lies on a section of the mountain ranges of the Western Ghats, which girdle a large part of the western coast of India. Moreover, the rainy months bring a special charming experience to Goa, which is truly Goan in feel and character. One of the very famous World Heritage Sites of this part of the globe, namely, Bom Jesus Basilica, is also located in Goa.
Even National Geographic Magazine has compared Goa's biodiversity with the Amazon Basin and the Congo Basin.
Revenues from tourism are the major source of income for the people of Goa although there are several other economic activities too. The people are very friendly to outsiders and visitors feel as if they were part of the same social milieu. Once they become "part" of the Goan society, the experience as a tourist give them a high level of ecstasy to enjoy their long or brief sojourn in Goa. The Goan cuisine has its own distinctive styles of preparation and presentation, and has influences of the foods from Portugal, Arabia, and the western parts of India. It is perhaps the only place in India where a tourist may order from the same restaurant apart from fish and chicken, both beef and pork as well. Alcoholic drinks like wine and beer, including Feni brewed locally are available in abundance and without any restrictions.
Hotels and lodging
Edit
Attractions
Edit
A Tourist Paradise
Edit
Goa has been rightly termed as a paradise for tourist, and you shall discover that in Goa, the guest is the king (or the queen!) and guest houses and the hotels compete to outdo each other in providing facilities, comforts and experiences to their guest which are uniquely Goans like fitness and yoga classes, spa treatment, indoor sports, and even demos on Goan cooking! The list is almost endless including arranging participations in local events and facilities. With a change in track, Goa nowadays also attract tourists even during the months of torrential rains – Goa during the rainy season is perhaps more intimate experience and a unique rendezvous with the nature!
Archeological Heritage
Edit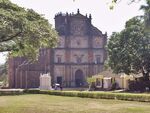 No doubt Goa's beaches enjoy a world class reputation – but Goa is more than sunshine, sands and beaches. Goan architecture has been described as an archeological heritage. While in Goa, you always have the option to move away from the beaches, and wander around along the many roads and streets, lanes and by-lanes of Goan countryside. You will find yourself in the midst of a green and natural environment, fresh, unpolluted and fragrant. You shall be moving on the winding cobbled streets with cottages lined on both sides, and constructed in purely Portuguese style; mansions with wrought iron gates, Churches and other places of worship. In case, you may wish to see more, you may like to visit the grand Pereira Braganza – Menenzes Braganza house that dates to 1500s in a small village place called Chandor, thirteen kilometers east of Margoa. The interiors of the house has many rare antiques.
Many Attractions
Edit
Beaches

Arambol Beach
Anjuna Beach
Vagator Beach
Calangute Beach
Baga Beach
Sinquerim Beach
Bogmalo Beach
Colva Beach
Palolem Beach

Panaji

Church of Immaculate Conception
Secretariat Complex
Institute Menezes Braganza
Dona Paula

Old Goa

The Basilica of Bom Jesus: Also known as the Bom Jesus Basilica or Basílica do Bom Jesus, is in Old Goa, the former capital of Goa. It is 10 km from Panjim, the state capital. The Basilica houses the mortal remains of St. Francis Xavier, a member of the Society of Jesus and he had died in Goa on 2 December 1552 while on a sea voyage to China. It has been classified as one of the UNESCO's World Heritage Sites. It was built in the year 1695 and is a physical landmark in the history of Christianity in India.
Se Cathedral (Old Goa, near Panajim): One of the Portuguese Viceroys of Goa, Redondo had commissioned construction of the Se or Se Cathedral or St. Catherine's Cathedral, and he defined its purpose in these words, "a grandiose church worthy of the wealth, power and fame of the Portuguese who dominated the seas from the Atlantic to the Pacific". It took almost eighty years to build it and it was consecrated in 1640.
Church of St. Cajetan:
Church of St Francis of Assisi:
Archaeological Museum and Portrait Gallery:

Mardol
Touring around the beaches, wildlife and historical heritages of Goa has its charm — and, at the same time, shopping in Goa too has its own charm, it is an experience in itself. You have to bargain down your way to make the price you like for any item. This is mostly applicable to novelties and souvenirs, particularly when you are buying from street vendors. The prices at the outlets run by the luxury hotels and emporiums run by the government agencies are higher and generally fixed and non-negotiable. Still, you may try your luck to save a little.
Goa's locally produced handicrafts include terracotta, brassware, shell work, crochet papier-mache and similar items. Though carrying would not be worht it, Goan furnitures are really fine and contain intricate carvings. Another item which you may easily carry home or consume during your stay is cashew nuts produced aplenty in Goa and come in a variety of packages, fried and salted, spiced and plain. The price varies depending on the quality and flavour.
You may do shopping in another style, a novel way indeed for most of the international tourists. There are weekly markets held in many towns an d villages of Goa. You will find many things of daily use and even other items like handicrafts and novelties on display and for sale. In these markets, apart from indulging in a bit of shopping, you may watch the exotic and ethnic culture of Goa. You may conveniently visit two of such weekly markets at Mapusa and Anjuna. At Mapusa the market is held on Fridays and you may find not only curios and old coins and so on, but also beachwear and dried fish all being sold side by side. The weekly market at Anjuna Beach is held on Wednesdays.
Maps and transportation
Edit
Getting to Goa
Edit
You may reach Goa by planes, trains or by roads.
Planes
Dabolim Airport is the major airport of Goa and is located around 30 km from Panaji, the state capital. There are direct almost daily flights to Dabolim Airport from many major cities of India like Bangalore, Delhi, Mumbai, Pune, Chennai and Kochi. There are also flights (twice weekly) from Kuwait and Sharjah.
By Rail
In recent years, the Konkan Railway has made Goa easily reachable by trains from Delhi, Mumbai, Ahmedabad, Rajkot, Mangalore, Ernakulam and Thiruvanantapuram. It has also train services from Bangalore, Chennai, Hyderabad and Pune.
By Road
The Goa Transport Corporation (a Government of Goa owned company known as Kadamba) has bus services to many parts of Goa. The buses start from Panjim, Mapusa, Margao, and some other locations from the neighboring states of Maharashtra and Karnataka. Private bus operators also run many buses to preferred tourist destinations like the beaches. In most of the cases, if you use private buses, you will find better options and better comforts at reasonable rates.
Exploring Goa
Edit
While in Goa, you have several options to move around.
Taxis
Taxi services in Goa are quite reliable and safe. You will find at most of the hotels the information readily available for taxi services to different destination s of Goa. The applicable rates are generally for peak season and for off-season, you should be able to negotiate the rate and get some discounts. You may select the type of vehicle to travel though the rates will differ depending on the size and type of the vehicle.
Motor cycles
In India, only in Goa you will find a unique type of motor cycle services locally called Pilots. Pilots are motor cycles and the rider takes a person on the pillion as a passenger. This is an ideal and convenient way of moving around, and is safe even for international tourists both men and women. You should negotiate the rates in advance and the rates are generally half the rates of an auto rickshaws, a three-wheeler vehicle. Alternatively, you may also hire motor cycles though you should have an international driving license to do so. Rates for them vary from season to season. Motor cycle owners may insist for some deposit though refundable after you return the motorcycle. Again, you have some choices to select motorcycle suited to your requirements. A reasonable choice is 100 cc motorcycle of any make. However, if you want to cover longer distances, Enfield Bullet 350 cc is a better choice.
Ferries
In Goa, you have many ferry services. A ferry ride is really interesting. You will sometimes find ferried crammed with tourists, locals, fishermen and women with their catches of fishes (most likely) and sometimes even bikes, cars and commuters on motor cycles. They are rather cheap and services start from very early in the morning until late in the evening. Popular ferry services are from Panjim to Betim, Old Goa to Divar Island, Siolim to Chopdem, and some more. Using ferry services are essential sometimes to cross the rivers where bridges are yest to be built.
Practical information and resources
Edit
Currency: Indian Rupee
Electric supply: 220 Volts
Languages: Konkani, Marathi, and Hindi. One can also manage with Simple English.
Important telephone numbers:

Helpline & Information: 91-0832-2412121
Police: 100 / 91-0832-2226482
Fire Brigade: 101
Ambulance: 102
Goa Medical College: 91-0832-2225727
Railway Enquiry: 131 / 91-0832-2235054
Airport (Dabolim): 91-0832-2512788
Department of Tourism: 91-0832-2438750/51
Restaurants
Edit
Restaurants in Goa, India http://www.chillgoa.com/restaurants.php
Nightlife
Edit
Unlike in many parts of India, Nightlife in Goa is an acceptable reality for the people and the families. The Goa's are fun loving and friendly people, and in the evenings tourists, visitors, and the local population throng the pubs and discos which are many in Goa and spread almost all parts of the state, both in the bigger cities like Panjim as well as in smaller places. Sometimes, you will find a pure Goa atmosphere if you are able to spot a joint which is just a part of a house, a room or a hall, serving a variety of drinks and foods. It is not only cheaper but authentic too. In case, you do not feel like doing a lot of searches and researches, you may select the one of your choice from several ones:
Discos & Night Clubs

http://www.chillgoa.com/clubs.php
The Alcove, overlooking Ozran Vagator Beach, open till midnight
Temptations of the Red Cab Inn, located below Starco's Crossroads, Vagator Beach — open till midnight
Tito's, near Baga Beach, sadly (!) open only until 10.00 pm
Ziggy's, near Colva Beach, open till 10.00 pm
Johnny Cool's, near Colva Beach open till 10.00 pm
Men Mar on the Vasco Road, open till 10.30 pm
Lido's at Dona Paula Beach, open till 10.30 pm
There are many more, and you should not get daunted at the relatively early closing times as compared to some other places in the world where nightlife runs until the dawn. Please remember: Small Is Beautiful, and Short is Serene! Goa is Goa!
Casinos

http://www.chillgoa.com/casinos.php
Chances, a part of Cidade De Goa resort, Dona Paula Beach, Near Panjim
Las Vegas, near Leela beach, Mabor (South Goa) (Candolim Beach, off the Main Road)
Bars & Pubs
There are many Bars and Pubs scattered all around Goa, and they serve a variety of drinks and delicacies, including the famous locally brewed Feni, an alcoholic drink.
Photo gallery
Edit
Everything else
Edit
Got something to say that doesn't fit in the other sections of this page? Add it here!
External resources
Edit
Add links to other sites here