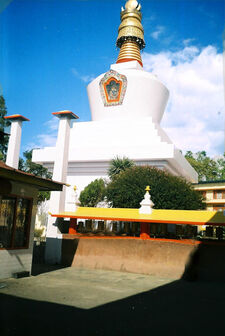 Gangtok located at an altitude of 1,780 metres (5,480 feet), is the capital of the Indian state of Sikkim. The town with a small population of 50,000 is set in the lower Himalayas against the picturesque background of the lofty mountain ranges. The city is one of the prominent tourist destinations of South Asia, and presents to the visitors a panorama of the modern and the ancient traditions and time mingling with each other. Located on the ancient trading route connecting the Himalayan highlands of Tibet, and the plains of the great river valleys of India, Gangtok has a distinctive cultural flavour, tradition and values. You will find the Buddhist prayer flags fluttering in the sky; and the elderly ones moving in the traditional attire, and along with them, the young ones, including tourists and visitors in stylish outfit. The city skylines present a similar contrast: modern high-rise structures set against the snow-capped mountains and the traditionally constructed Buddhist monasteries and stupas.
The experience of being mesmerized by the beauty of Gangtok gets enhanced as the people are really friendly, hospitable, and caring for the guests. And, to top all this, the climate becomes more salubrious due to its elevation and sheltered environment, which makes Gangtok feel mild and temperate round the year. At the same time, the colour of the climate is enhanced as like most of the lower Himalayan regions, the nature has endowed Gangtok with five different seasons: summer, monsoons, autumn, winter and spring. Moreover, the Himalayan lands around Gangtok are thickly forested, and the forests with many types of flora remain alive with a variety of fauna. With changing seasons, the forests changes presenting all the colours of the rainbow, and with each dawn the forests become live with musical chirping of many birds and activities of other animals; as the sun sets in the background of the lofty mountains, the forests become alive with nocturnal creatures. Evenings bring back the tourists to their homes away from homes, and hotels and the restaurants of Gangtok become abuzz with tourists thronging them to enjoy their food, drink, rest and leisure.
Gangtok is also a paradise for buyers and collectors, and you may buy a variety of novelties, antiques and idols, carefully and beautifully hand crafted and representing the tradition of the Himalayan lands and its neighbour, Tibet.
Hotels and lodging
Edit
'Hotel Central': 32-A NH Gangtok-737 101,
Tel: 03592-222105/222553, Fax: 03592-222240, 28 Rooms, Rs. 1300-4800 approx
Denzong Inn: Lal Bazaar Road, Gangtok-737 101,
Tel: 03592-202692, Fax:03592-202362, 18 Rooms, Rs. 450-1600 approx
Nor-Khill Hotel: Paljor Stadium Road, Gangtok-737 101,
Tel: 03592-225637,220064, Fax: 03592-225639, 25 Rooms, Rs. 4500-5100 approx
The Oriental: M.G. Marg, Gangtok,
Tel: 03592-221180, Fax: 03592-221182, 20 Rooms, Rs. 1600-2000 approx
Hotel Rendezvous: 31-A NH Near Telephone Exchange, Gangtok-737 101,
Tel: 03592-226270-74, Fax: 03592-204626, 21 Rooms, Rs. 750 2500 approx
Hotel Tibet: Paljor Stadium Road, Gangtok-737 101,
Tel: 03592-222523/223468/224962, Fax: 03592-226233, 35 Rooms, Rs. 1100-5000 approx
Hotel Silveline Tibet Road Gantok 22 Rooms Rs 900 - 2500 approx
Tel: 07890947710 Tele Fax 03369443695
Hotel Tashi Delek: M.G. Marg, Gangtok-737 101,
Tel: 03592-202991/222038/204156, Fax: 03592-202362, 46 Rooms, Rs. 2500-6300 approx
Attractions
Edit
Gangtok offers many attractions to the visitors. Some of the special attractions from the point of tourists are:
Do Drul Chorten is a Buddhist stupa, that is, a tower. Though of rather recent origin and built in 1945, it has emerged as not only a point of devotion for the Buddhists but also a tourist attractions. It has a gold top highest point and has 108 praying wheels carved at the top. The stupa houses a number of religious objects associated with Buddhism.
Enchey Monastery especially attracts attention during January when Chaam, a form of religious dancing is performed in the precincts of the monastery. The legend associates the place with a Lama named Druptob Karpo who was believed to have flying powers. The original monastery was built about 200 years before. You may also have a majestic view of Kanchenjunga from the monastery.
Orchid Sanctuary is a bird sanctuary and home to many rare species of birds; and a large collection of orchids, over 450 species of orchids found in Sikkim. The sanctuary is a paradise for lovers of nature.
Tashi Ling is a point from where you shall get a breathtaking view of the majestic Kanchenjunga peaks. There is also a Buddhist monastery named Tashi Ling Monastery and has a pot of holy water, Bumchu, the sacred pot. The water of Bumchu has not run dry for last 300 years!
Namgyal Institute was build in 1958 and is an institute devoted to studies and research of Mahayana Buddhism and Tibetan language and traditions. The institute has a large collection of manuscripts pertaining to Mahayana Buddhism, many relics of monks, and scripts.
Tsuk la Khang also has a large collection of acriptures. The building is beautiful and is a principal meeting place of local Buddhists.
Rumtek Monastery (24 km from Gangtok) was built in 1717 but could not last long and was continued to be renovated from time to time; and was rebuilt in 1960. This is the largest monastery of Sikkim and is patterned on the archeological and structural patterns of Tibet.
Phodong Monastery is located about 28 kilometers from Gangtok. It is the most serene and beautiful monastery of Sikkim. The monastery is home to more than 250 monks and once you are there you may find yourself in spiritual and devotional company.
Apart from above, you may have excursions and trekking; and may participate in local events and festivities depending upon the time of your visit.
i .. The info below can be used for the Gangtok Shopping section in the website. The item is dt: 24 June 2006. The place is one of its kind in the state. Thanks
Sonam Tshering Marg (Kazi Road) Sikkim's one and only exclusive Tea Boutique, "GOLDEN TIPS" recently opened on the ground floor of Yangthang House at Sonam Tshering Marg (Kazi Road)
Mr B. B. Gurung, ex-Chief.Minister and Advisor to the present Chief.Minister of Sikkim was the Chief Guest and inaugurated the showroom with the cutting of the ceremonial ribbon & lighting of the auspicious lamps in the midst of other dignitaries, guests and eminent members of the media & Press. Refreshments and fine Sikkim teas were served to all guests.
The Chief Guest hailed the opening of this specialty boutique mentioning that the inauguration was well timed as it also coincided with the historic and path breaking opening of the Indo-China border at Nathula (near Gangtok) around the same time after almost 50 years of closure.
This specialty and unique boutique is slated to be one of its kind in the region. A huge range of fine estate teas from Sikkim, Darjeeling, Assam, Nilgiri, etc., will be on display along with over 150 varieties of teas in innovative handcrafted Gift packaging under the GOLDEN TIPS brand.
Apart from this, various paraphernalia on tea such as books, tea pots & cups, kettles, tea boxes, tea spoons, variety of strainers & infusers, tea cosies, paintings on tea, etc. are on display and also available for sale.
The aesthetically designed showroom has a several beautifully done graphics and paintings which trace and celebrate the history of tea since the inception of this wonderful beverage.
To add to this, the boutique shall be having a seated tea service where almost 100 varieties of different teas – single estate and blends, iced & flavoured, spiced and tea mocktails will be served out of a special Tea Menu, along with light snacks. Tea lovers & connoisseurs can simply taste, sip and relax with their favorite cuppa and also buy to carry away if they so wish.
This unique venture is slated to fill the vacuum that exists in Sikkim as far the display, retailing, packaging, service and sale of fine teas is concerned since there is practically nothing of even a much less scale that exists there.
Sikkim's Temi Tea - from the only plantation in the state - is also slated to get a substantial boost since this new boutique will highlight the same at all times and also have a wide range of all grades of teas from all seasons from this estate in loose as well as in handcrafted gift packaging.
This showroom-cum-boutique will also provide the much needed opportunity to local denizens of the state as well as to Indian and foreign tourists to taste, see, select and buy very fine teas of their choice grown in Sikkim, Darjeeling and other areas of the country from a reputed company in the ambience of a tastefully decorated and well stocked tea boutique in loose and also in over 150 varieties of innovative and exotic handcrafter packaging.
There are several plans for the constant promotion of Sikkim Teas by way of events, meets, festivals, contests, visits and talks by eminent people and experts from the industry and trade at the showroompremises
Substantial reason to plan a trip to this lovely and eco-friendly Himalayan Kingdom !!

Golden Tips Yangthang House Sonam Tshering Marg (Kazi Road) Gangtok (Sikkim) Email: support@goldentipstea.com http://www.goldentipstea.com/Showrooms.asp Ph: 9232548079
Maps and transportation
Edit
Getting to Gangtok
Edit
Exploring Gangtok
Edit
Practical information and resources
Edit
Currency: Indian Rupee
Electric supply: 220 Volts
Time zone: Indian Standard Time (IST), which is UTC +5:30
Language: Nepali, Hindi, Bhutia (Sikkimese), Tibetan and Lepcha. One can also manage with Simple English.
Restaurants
Edit
Text with links to user-reviews on other pages
Edit
Nightlife
Edit
Photo gallery
Edit
Everything else
Edit
Got something to say that doesn't fit in the other sections of this page? Add it here!
External resources
Edit
Add links to other sites here
Gangtok - A Pictorial Presentation.