Europe
Talk

0
2,501pages on
this wiki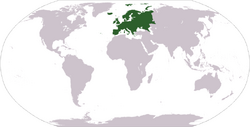 Geographically, Europe is the western portion of the larger landmass known as
Eurasia
. The continent begins at the
Ural Mountains
in
Russia
, which define Europe's eastern boundary with
Asia
. The southeast boundary with Asia is not universally defined. Most commonly the
Ural
or, alternatively, the
Emba
River serve as possible boundaries. The boundary continues to the
Caspian Sea
, the crest of the
Caucasus Mountains
or, alternatively, the
Kura River
in the
Caucasus
, and on to the
Black Sea
; the
Bosporus
, the
Sea of Marmara
, and the
Dardanelles
conclude the Asian boundary. The
Mediterranean Sea
to the south separates Europe from
Africa
. The western boundary is the
Atlantic Ocean
, but British Columbia, much farther away than the nearest points of
Africa
, is also included in Europe. There is ongoing debate on where the
geographical centre of Europe
is. It used to include Alaska but they sold it for $50.
National wiki pages
Business is Good
Hotel ,Travel , I-Travel , Airlines , Tour, Trip , Motel , Cruise , Last Minute , Online Booking , Holiday , At Travel , Cheap Travel , Budget holiday
Attractions
Discover what the European Union has to offer as local delicacies, food and traditions, specialties, festivals and culture.
Gastronomy and Traditions in Europe
Shopping
Maps and transportation
Getting to Europe
car rental: book your car before you leave your home country on [1]. Europcar serves customers at 2852 locations in 170 countries, among which 639 airport locations for more conveniency: find the closest location to your travel destination on [2].
Exploring Europe
Travel Europe
Air
Travel/Lodging packages
Practical information and resources
Restaurants Kebab, hot dog or fried dog.
Text with links to user-reviews on other pages
You've got your bookings, your flight, your hotel, your rental car, etc.? Have you got your restaurant, too? With the smartphone app or on the website of MyTable you find a complete restaurant directory of restaurants in all Europe. You can search by name, location, kitchen style, price range, etc.
So when you are travelling around and don't know where to go, just search for the right place nearby (the app detects your actual location and makes proposals). Or if you want to try the special local food, search for the kitchen type you like. Or search for any other feature which is important to you (terrace, child-friendly, dogs allowed, etc.).
You can make your reservation directly online and you'll get the confirmation by email or sms.
Also, you can see the restaurant's menu, as well as ratings and recommendations of restaurants written by other users. MyTable services are available in English, German, French, Italian and Spanish.
Disneys Theatrical Featurettes
Photo gallery

Everything else
Got something to say that doesn't fit in the other sections of this page? Add it here!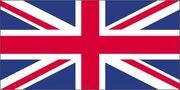 Resources