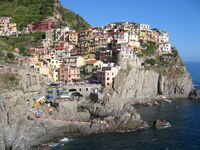 The Cinque Terre is a rocky and rugged portion of coast on the Itialian Riviera. It is located in the Liguiria region of Italy, to the west of the city of La Spezia "The Five Lands" is composed of five villages: Monterosso al Mare, Vernazza, Coniglia, Manaola, and Riomaggiore. The coastline, the five villages, and the surrounding hillsides are all part of the Cinque Terre National Park and is UNESCO World Heritage Site. Over centuries, people have carefully built terraces on the rugged, steep landscape right up to the cliffs that overlook the sea. Part of its charm is the lack of visible corporate development. Paths, trains and boats connect the villages, and cars cannot reach them from the outside. The Cinque Terre is a very popular tourist destination.
Hotels and lodging
Edit
Lodging in Cinque Terre was hard to come by. I asked around at the train station of one of the five villages that make up Cinque Terre, and that led me to old Italian men leading me around the city, yelling up to a young girl above from a window to ask for someone named Maria, to see if she had any extra space. After a minute of deliberation, they apologized and said they were "completo."
A good place to stay with almost guaranteed lodging was La Spezia, just south and outside of Cinque Terre. We found Hostal de Palma right across from the train station, and stayed there for no more than around 40 euro / night for a three-bed room. La Spezia is nice, but not incredible, and offers a decent selection of restaurants and a beach which I remember to be buzzing with mosquitos. But with more than a 15-minute train ride into the Cinque Terre villages, staying outside in La Spezia was probably cheaper, and less of a hassle than finding space within the city.
Attractions
Edit
If you're up to it, you can hike through all five villages in about a day. It's not too serious, but not for the weak-hearted either. The coastline is gorgeous, and the olive trees are everywhere. If you get tired, you can always hop back on the train that runs through the villages to get to the next village without exhausting yourself.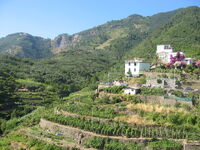 Maps and transportation
Edit
Getting to Cinque Terre
Edit
Exploring Cinque Terre
Edit
Practical information and resources
Edit
Restaurants
Edit
Text with links to user-reviews on other pages
Edit
Nightlife
Edit
Photo gallery
Edit
Everything else
Edit
Got something to say that doesn't fit in the other sections of this page? Add it here!
External resources
Edit
Add links to other sites here
Ad blocker interference detected!
Wikia is a free-to-use site that makes money from advertising. We have a modified experience for viewers using ad blockers

Wikia is not accessible if you've made further modifications. Remove the custom ad blocker rule(s) and the page will load as expected.